by Wiznie Marzuki on Thursday, September 14, 2006, under exhibition
Benih-Benih Perubahan….
Piagam Bumi dan Potensi Manusia

Apakah yang telah terjadi?
Segelintir manusia menikmati kehidupan yang selesa. Sebahagian besar drpd manusia di dunia kita hidup susah dalam cengkaman kemiskinan.
Kita memusnahkan Bumi, tempat tinggal kita, mencemari udara, meracuni sungai, menyebabkan spesies lain menjadi pupus.

Jangan membiarkan keadaan ini berterusan…
Biar betapa rumitnya masalah global ini, manusialah yang menyebabkan wujudnya masalah2 ini. Kitalah yang perlu mencari jalan penyelesaiannya.

Kita berupaya mengubah masa depan kita…
Lihatlah bagaimana individu2 berupaya melakukan satu perubahan apabila mereka sendiri bertindak dan mempengaruhi orang lain untuk sama2 mengambil tindakan.
Fikirkanlah apa yang boleh anda lakukan untuk mencari jalan penyelesaian ini.

(atau korg nak read dlm english?? kat bwh neh ada translation plak..hehehe~ )

Seeds Of Change..
The Earth Charter & Human Potential

What's going on?
A few people enjoy lives of relative comfort. Most people live in our world struggle to survive in impoverished conditions.
And we are destroying the Earth on which we live, polluting the air, poisoning our rivers, driving other species to extinction.

Things cannot continue as they are…
No matter how complex global problems may seem, it is our selves who have given rise to them. They cannot be beyond our power to resolve.

We can change our future…
See how individuals are making a difference when they empower themselves and others through taking action.
Learn what you can do to empower your self and become part of the solution.
0 comments for this entry:
~:WeLcOmE:~
Bayangkan makhluk kupu-kupu yang lemah mampu merungkai balutan kepompongnya
dan menjelma sebagai ciptaan yang sempurna dan indah, walaupun anugerah Maha
Pencipta sekadar tubuh kecil dan kudrat terbatas semata-mata.
Begitulah umpamanya insan yang berdikari, cekal mengemudi haluan nasib tanpa
meminta belas simpati, walau betapa besar cabaran yang diharungi.
Walaupun kadangkala timbul rasa ragu dan rendah diri, namun bagai kupu-kupu
kita mampu terbang lebih tinggi, jika kita yakin dengan kemampuan daya usaha sendiri.
Selamat datang ke blog saya... Tinggalkanlah sekurang-kurangnya ucapan salam buat saya. Terima Kasih...
~:can reach me via dis email
wittyghost84@yahoo.com n also for my YM:~

~:MuTiArA HaTi:~
~~~~~~~~~~~~~~~~~~~~
~~~~~~~~~~~~~~~~~~~~
Copy & paste code below to your webpage. Click Ctrl + A & Ctrl + C ( Copy )




alt="wiwie's blog" />

~:ChAtBoX:~
Nak kawin x? cuba klik sini
MasKahwin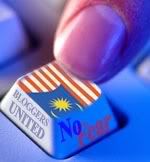 Archives

~:My BoOk's Shelf :~

~:DeAriE:~
Pre-Birthday Lunch at BLVD

7 months ago

Tips Kesihatan : Resdung oh Resdung

2 years ago

17 bulan...

6 years ago

~:MeMbErS:~