by Wiznie Marzuki on Saturday, February 10, 2007, under exhibition
Today, i went to PWTC to see the exhibition of"Expose War Crimes, Criminalise War". In about 11am i reach there, i saw the sign of "no cameras allowed".. yeah, i do think so eventhough i also brought a camera there. But i do know that for sure is not good to take any picture about this exhibition bcoz it will look like we dont have any sensitivity about this serious issue.

I go there alone by myself bcoz suddenly mysis cant accompany me to this exhibition. She got a lot of works, in terms of to help her father. So, Its ok then..i dont mind at all.

We have to qeueu up at the entrance, before they can let us in. They only can allow about 10 people to go in at once. Before i went into the hall, i place my bag at the counter. I only bring in my purse and notebook.

FYI, we have to go through every Zone to see this exhibition.
Zone A "Nuclear War", Zone B "Depleted Uranium", Zone C "Economic Sanction", Zone D "Palestine", Zone E "Iraq War", Zone F "Lebanon", Zone G "Vietnam War",Zone H "Torture Chamber", Zone I "Killing Machines"and last is "Voices Of Peace".

When i take the first step into the tunnel,i feel so afraid, sad...until, i just dont know how to imagine what did i felt when i went through all this zone.If i dont think about all the people standing around me, then its not impossible if i could cry seeing those pictures.Yeah i know, i've seen it before...But, as a human i know that we all can easily touched by seeing it. Just imagine, what we will do and what do we feel if we're in their shoes? As for me, I'm sure that i cant imagine it at all.

"We have seen what war can do to the people. When will we ever learn from it?"
The "Torture Chamber" shown us how and what did allthe american soldiers did to the prisoners. With all the sounds we heard all the time we were in there, it really frightened me up.And i also went into the room where they turn on the song that those soldiers had fun with while they torturing allthe prisoners. The song that i heard was...its from Boney.M but i dont remember what song it is.
This exhibition shown us more than just pictures... It brought us to think about what is going to happen to this world in the future... But, now i think its not only about the future, bcoz it just happened around us. It's about today! Forever i will say NO to war.



0 comments for this entry:
~:WeLcOmE:~
Bayangkan makhluk kupu-kupu yang lemah mampu merungkai balutan kepompongnya
dan menjelma sebagai ciptaan yang sempurna dan indah, walaupun anugerah Maha
Pencipta sekadar tubuh kecil dan kudrat terbatas semata-mata.
Begitulah umpamanya insan yang berdikari, cekal mengemudi haluan nasib tanpa
meminta belas simpati, walau betapa besar cabaran yang diharungi.
Walaupun kadangkala timbul rasa ragu dan rendah diri, namun bagai kupu-kupu
kita mampu terbang lebih tinggi, jika kita yakin dengan kemampuan daya usaha sendiri.
Selamat datang ke blog saya... Tinggalkanlah sekurang-kurangnya ucapan salam buat saya. Terima Kasih...
~:can reach me via dis email
wittyghost84@yahoo.com n also for my YM:~

~:MuTiArA HaTi:~
~~~~~~~~~~~~~~~~~~~~
~~~~~~~~~~~~~~~~~~~~
Copy & paste code below to your webpage. Click Ctrl + A & Ctrl + C ( Copy )




alt="wiwie's blog" />

~:ChAtBoX:~
Nak kawin x? cuba klik sini
MasKahwin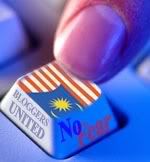 Archives

~:My BoOk's Shelf :~

~:DeAriE:~
Pre-Birthday Lunch at BLVD

7 months ago

Tips Kesihatan : Resdung oh Resdung

2 years ago

17 bulan...

6 years ago

~:MeMbErS:~