by Wiznie Marzuki on Saturday, February 10, 2007, under exhibition
I decided to see the exhibition of "War Crimes" on friday bcoz i also wants to see the Book Carnival. Its also held in PWTC and I already mention it in my previous post.The Book Carnival, selling books, giving us more discount in buying old books in order to encourage us to read more books. But, here i dont buy any books.I think, i've a lot more books in the PTSL that i havent read yet.I already thought of borrowing books at the library, to fill in my free times. InsyaAllah, i will.

After that, i went to Berjaya Times Square... At first, i just went there to meetmy cousin. But, it end up... i watch a movie at the GSC "Qabil Khusry Qabil Igam".I didnt read any synopsis before i watch it. But, i do watch MHI, when Hans and Rusdi came,and they talk about it just a little, to promote it of course. So, overall i know that its about two brothers and two sisters were in love since they were in highschool. And they had promised to get married, but then something comes up and it ruined everything... First on my mind, i thought thatthis is a comedy film. But, then it turned out to be sad...until....it made me cry.. huhuhuhu~ maybe i'm just too emosional at that time bcoz PMS or it can really touched me? hehehehe~

Overall, i can say that i like this movie... i'll rank it errrmmm 6 out of 10 stars. And then, i went to Elements again, place where my cousin works. I was looking all the clothes, and the new arrival one..And suddenly, she offers me to try it on... so, i'd tried on about 4pairs of slacks and blouse.. And she asked me whether i wants to buy it or not.. If i dont have enough money, in that case..she will reserve it for me.. And i said yes...hehehe~ I just cant resist those sofisticated looked blouse..huhuhu~ i told her to reserve 2 blouse and one slacks.. under her name and discount for sure.. wahahaha~ i love it!! hehehe~ i had a great times today eventhough i went out alone. ahaks~ like i never used to it.
0 comments for this entry:
~:WeLcOmE:~
Bayangkan makhluk kupu-kupu yang lemah mampu merungkai balutan kepompongnya
dan menjelma sebagai ciptaan yang sempurna dan indah, walaupun anugerah Maha
Pencipta sekadar tubuh kecil dan kudrat terbatas semata-mata.
Begitulah umpamanya insan yang berdikari, cekal mengemudi haluan nasib tanpa
meminta belas simpati, walau betapa besar cabaran yang diharungi.
Walaupun kadangkala timbul rasa ragu dan rendah diri, namun bagai kupu-kupu
kita mampu terbang lebih tinggi, jika kita yakin dengan kemampuan daya usaha sendiri.
Selamat datang ke blog saya... Tinggalkanlah sekurang-kurangnya ucapan salam buat saya. Terima Kasih...
~:can reach me via dis email
wittyghost84@yahoo.com n also for my YM:~

~:MuTiArA HaTi:~
~~~~~~~~~~~~~~~~~~~~
~~~~~~~~~~~~~~~~~~~~
Copy & paste code below to your webpage. Click Ctrl + A & Ctrl + C ( Copy )




alt="wiwie's blog" />

~:ChAtBoX:~
Nak kawin x? cuba klik sini
MasKahwin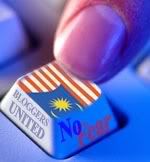 Archives

~:My BoOk's Shelf :~

~:DeAriE:~
Pre-Birthday Lunch at BLVD

8 months ago

Tips Kesihatan : Resdung oh Resdung

2 years ago

17 bulan...

6 years ago

~:MeMbErS:~