by Wiznie Marzuki on Tuesday, February 27, 2007, under friends
Last nite dlm kul 10mlm Mesia dpt call from India.. guess who? its Rahah.. dia ke sana slps lulus IQ test n interview.. dia salah seorg drpd 100 org pelajar dr seluruh IPT dlm Mesia yg dpt ke India utk kursus..ini pun under gomen... dia dpt elaun rm700.. mkn minum dan tempat tgl disediakan.. dia btolak dr KLIA kul2155 23feb07.. rasanya if xsilap mayb 6bln kot dia kat sana.. atau bln6 dia balik? hehe.. blur jap.. ape2 pun for our konvo dis august of course lah dia akan balik.. back for good..

Call smlm dia citer, bilik dia mcm hotel jer... tp, bile kuar dr hotel n masuk town.. dia duk citer xbaper bersih lah.. yer, wie fhm jer.. bukannye xpenah tgk dlm tv,real India cane.. if dlm filem tuh nampak cun jer kan.. hehe..xsempat nk sembang lama sgt.. yerlah kan.. call jarak jauh..

Rahah neh asalnyer xnak g India coz takut lah sorg2 w/o family n also takut Java.. tp, peluang xdtg byk kali..so, she just grab it for her own good..lgpun her family seme sokong dia..for sure lah kan.. n me as her fren, i'll alwiz pray dat she can learn and adapt with new environment der..

Rahah, aku tau ko xbape suka nak blaja Java.. tp, aku pun tau ko ada kesungguhan dlm melakukan sst dgn baik..so, aku yakin ko bley lepas semua neh dgn jayanyer.. insyaAllah.. Sbg cthnyer, tgklah ko nyer projek final year arituh, ko berjaya wat Sistem dgn Mobile.. dahlah ko guna ASP.NET yg xde rujukan student lain wat.. pastuh, masa present tuh ko bjaya tunjuk jadi seme dgn PDA uncle ko..hehehe...aku bangga dgn ko, Rahah.. xpe, yg aku tau.. aku akan pesan kain sari dr sana utk konvo kita nnt.. yeah yeahhh.. ahaks..erm.. xlupa jugak, nnt ko kena ajar aku pandai guna Java tuh tau.. J2ME..J2EE.. mcm2 lah..hehe..rajin2lah contact kitorg via frensta pun xpe..nnt, aku try call n sms ko erk..
Ya Allah, lindungilah sahabatku ini dan berikanlah kejayaan buatnya.. aminnn..
:
friends

0 comments for this entry:
~:WeLcOmE:~
Bayangkan makhluk kupu-kupu yang lemah mampu merungkai balutan kepompongnya
dan menjelma sebagai ciptaan yang sempurna dan indah, walaupun anugerah Maha
Pencipta sekadar tubuh kecil dan kudrat terbatas semata-mata.
Begitulah umpamanya insan yang berdikari, cekal mengemudi haluan nasib tanpa
meminta belas simpati, walau betapa besar cabaran yang diharungi.
Walaupun kadangkala timbul rasa ragu dan rendah diri, namun bagai kupu-kupu
kita mampu terbang lebih tinggi, jika kita yakin dengan kemampuan daya usaha sendiri.
Selamat datang ke blog saya... Tinggalkanlah sekurang-kurangnya ucapan salam buat saya. Terima Kasih...
~:can reach me via dis email
wittyghost84@yahoo.com n also for my YM:~

~:MuTiArA HaTi:~
~~~~~~~~~~~~~~~~~~~~
~~~~~~~~~~~~~~~~~~~~
Copy & paste code below to your webpage. Click Ctrl + A & Ctrl + C ( Copy )




alt="wiwie's blog" />

~:ChAtBoX:~
Nak kawin x? cuba klik sini
MasKahwin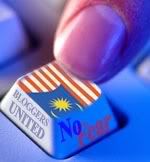 Archives

~:My BoOk's Shelf :~

~:DeAriE:~
Pre-Birthday Lunch at BLVD

6 months ago

Tips Kesihatan : Resdung oh Resdung

1 year ago

17 bulan...

6 years ago

~:MeMbErS:~