by Wiznie Marzuki on Tuesday, May 01, 2007, under me myself n i
Salam ols..

jumaat minggu lepas after wat entry kt dis blog, trus balik KJ... actually ala2 plan ngan xplan jgk lah... dlm persimpangan dilema lah katakannn.. hehehe~ so, dis week duk umah jer... xde g ane2 pun.. cuma ari isnin ada g lunch ngan zureen kt Giant KJ tuh... juz wanna meet her.. n listening to her... she's my fren n always be... eventhough i cant help her, but still i can give her moral support right... erm.. hoping dat she will be alright... neway, its not bout her lahh...

dis morning at bout 11am... we ol went to PWTC... korg pun tau khannn.. ada BooK FaiR kt saner.. then, juz imagine time holiday lak tuhh.. xke sesak ngan rakyat jelata memenuhi ruangan2 yg aderr.. muahahaha~ sabor jer ler.. i went there wif mysis AyA n her fren FaNa... then, we meet AtUn, ZaRa, SyAhiD, AnThoNy,TauFiK n FaTiN.... after ronggeng2 belek2 all the books... kitorg pegi mengisi perut kat mcD theMall... wahhhhh, lega rasanya dpt menikmatiii ayam spicyyyyy.. sedapppppnyerrrr... makan mmg xangkat kepala lah td... wakakakakka~ yannnn jgn jeles... ahaks~ bout 6pm baru smpi umah... then, k'laila ajk g cc, bagus gakk..hehe~

erm, dis wiken i'm going back to bangi.. bcoz nextweek kena attend kursus 4P kt UKM.. from 7 to 10mei... after that kena akemas brg, balik KJ... mmg nk kena mintak AyA again fetch me n tose barangssss balik umah KJ... hehe~ brg dh xbyk..coz last friday dah minta tlg Aya n Fana dtg amik brg kt umah after diorg abis last day their attachment kt law firm ampang hilir tuh.. hehe~ oklah... daaaa~ c ya again...
0 comments for this entry:
~:WeLcOmE:~
Bayangkan makhluk kupu-kupu yang lemah mampu merungkai balutan kepompongnya
dan menjelma sebagai ciptaan yang sempurna dan indah, walaupun anugerah Maha
Pencipta sekadar tubuh kecil dan kudrat terbatas semata-mata.
Begitulah umpamanya insan yang berdikari, cekal mengemudi haluan nasib tanpa
meminta belas simpati, walau betapa besar cabaran yang diharungi.
Walaupun kadangkala timbul rasa ragu dan rendah diri, namun bagai kupu-kupu
kita mampu terbang lebih tinggi, jika kita yakin dengan kemampuan daya usaha sendiri.
Selamat datang ke blog saya... Tinggalkanlah sekurang-kurangnya ucapan salam buat saya. Terima Kasih...
~:can reach me via dis email
wittyghost84@yahoo.com n also for my YM:~

~:MuTiArA HaTi:~
~~~~~~~~~~~~~~~~~~~~
~~~~~~~~~~~~~~~~~~~~
Copy & paste code below to your webpage. Click Ctrl + A & Ctrl + C ( Copy )




alt="wiwie's blog" />

~:ChAtBoX:~
Nak kawin x? cuba klik sini
MasKahwin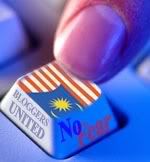 Archives

~:My BoOk's Shelf :~

~:DeAriE:~
Pre-Birthday Lunch at BLVD

7 months ago

Tips Kesihatan : Resdung oh Resdung

2 years ago

17 bulan...

6 years ago

~:MeMbErS:~