by Wiznie Marzuki on Thursday, May 17, 2007, under me myself n i
well... now i'm in kelantan.. juz arrive here on 5am on 16mei by bus from KL.. first time naik bas sehhh... hehe~ tp, nextime maybe i'll rather choose train as my transport to go back to my hometown.. and if i was alone lah khann.. if ditemani, then why not let them decide.. insyaAllah.. so, syukur Alhamdulillah i finall arrive here and as we planned today my mummy plak yg bertolak balik ke KL wif my uncle... erm.. juz me and my lilbro jer lah yg ade kt umah tuh... perghh.. agak menakutkan coz duk berdua jer.. but, i hv too.. anyway, its my family's house khan.. why shud i be afraid of, rite? semalam sampai je umah pagi mmg tido jer coz dlm bas xleh tido..asal nk lelap jer terjaga semula.. ntahlah.. hahaha~ malas nk layann.. n lastnite after have enough rest n enough sleep (i think) i went to the bandar of pasirmas... coz ada pasar malam... teringin giler nk minum air coconut shake.. its my fav's drink.. hehe~ dapat jer..lega! today plak.. g teman my mum go to the school cantin... sek men gual periok dat is berhampiran rantau panjang.... ohyer.. my hometown is in pasirmas ok.. erm... apa yer yg nk dbtau neh.. ohye.. i really really really want to drive.. i know i can.. but i dun know when i'm going to start onto it.. yaAllah, aku tau Kau tidak akan mengubah nasib hambaMu melainkan dia sendiri yg mengubahnya... i'm gonna try and i wanna give it a try.. and i will... insyaAllah.. God will.. i know, i can.. ameeennnn...
yahhh, i know for those who dah drive, u ol maybe think dis all like silly thing, rite? but, for sumone yg cuba to gain self confidence in herself... she must hv a boost for it.. then, she will... yaAllah.... tolonglah hambaMu ini.... huhhhhhhh....
0 comments for this entry:
~:WeLcOmE:~
Bayangkan makhluk kupu-kupu yang lemah mampu merungkai balutan kepompongnya
dan menjelma sebagai ciptaan yang sempurna dan indah, walaupun anugerah Maha
Pencipta sekadar tubuh kecil dan kudrat terbatas semata-mata.
Begitulah umpamanya insan yang berdikari, cekal mengemudi haluan nasib tanpa
meminta belas simpati, walau betapa besar cabaran yang diharungi.
Walaupun kadangkala timbul rasa ragu dan rendah diri, namun bagai kupu-kupu
kita mampu terbang lebih tinggi, jika kita yakin dengan kemampuan daya usaha sendiri.
Selamat datang ke blog saya... Tinggalkanlah sekurang-kurangnya ucapan salam buat saya. Terima Kasih...
~:can reach me via dis email
wittyghost84@yahoo.com n also for my YM:~

~:MuTiArA HaTi:~
~~~~~~~~~~~~~~~~~~~~
~~~~~~~~~~~~~~~~~~~~
Copy & paste code below to your webpage. Click Ctrl + A & Ctrl + C ( Copy )




alt="wiwie's blog" />

~:ChAtBoX:~
Nak kawin x? cuba klik sini
MasKahwin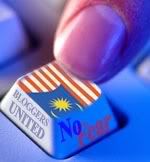 Archives

~:My BoOk's Shelf :~

~:DeAriE:~
Pre-Birthday Lunch at BLVD

8 months ago

Tips Kesihatan : Resdung oh Resdung

2 years ago

17 bulan...

6 years ago

~:MeMbErS:~