by Wiznie Marzuki on Tuesday, June 19, 2007, under me myself n i
9 jun 07… I had meeting wif CikSom n kakMas.. janji nk jupe jer di subang parade.. but then, I got problem, so, they came n fetch me at my home.. hehe~ plan kul3 jupe, tp until kul430 baruler kitorg dpt jupe.. haha~ diorg xjupe cari jalan... agak pening cket bila nk cari kastam neh, sampai terpusing2 jer area Kj tuh.. ahaks~ wie pun blur jgk kdg2 bg direction xbtul sgt kan, tambah ler blur diorg jadiknyer… hehe~ well, but then destinasi kitorg sama jer.. ke subang parade coz depa tuh insist nk mkn KennyRogers.. wie xkesah pun… biasalah if jupe, borak2 mkn2.. pastu balik.. dlm kul6 lebih k'mas send me home.. before dat anta CS dulu kat USJ.. hehe~ apa yg excited?? Coz, yerlah 1st time jupe ngan cs tuh.. mmg cun lah.. she does look elegan wif her age.. alahai, my mum also look young wut.. hehe~ sure cs pandai jaga diri, that's why she looks young than her age could tell.. btw, one more which makes me so happy… is.. I got present from kakMas.. she puts things in one box.. dlm tuh ada mcm2 gift lah… cenderahati n also shirt… dia ada pesan, if ada curious nk ask bout the gift then sms her.. so, wie juz sms her lah.. bcoz of , from all things inside the box.. yg curious nyer, why she gave me dat shirt.. so, she told me that shirt was specially made by his brother… plus his brother have his ownshop at PAS, shahalam… buka shop "StickerMaster" so, mmg only design lah yg wie dpt tuh… hehehe~ mana tak excited nyer… coz dat shirt is unique!! Well, I would like to say thanx to k'mas for the gift… n also thanx to CS n k'mas again for this lovely meeting and for the treat at KR… I hope I can see you both again next time.. insyaAllah..
0 comments for this entry:
~:WeLcOmE:~
Bayangkan makhluk kupu-kupu yang lemah mampu merungkai balutan kepompongnya
dan menjelma sebagai ciptaan yang sempurna dan indah, walaupun anugerah Maha
Pencipta sekadar tubuh kecil dan kudrat terbatas semata-mata.
Begitulah umpamanya insan yang berdikari, cekal mengemudi haluan nasib tanpa
meminta belas simpati, walau betapa besar cabaran yang diharungi.
Walaupun kadangkala timbul rasa ragu dan rendah diri, namun bagai kupu-kupu
kita mampu terbang lebih tinggi, jika kita yakin dengan kemampuan daya usaha sendiri.
Selamat datang ke blog saya... Tinggalkanlah sekurang-kurangnya ucapan salam buat saya. Terima Kasih...
~:can reach me via dis email
wittyghost84@yahoo.com n also for my YM:~

~:MuTiArA HaTi:~
~~~~~~~~~~~~~~~~~~~~
~~~~~~~~~~~~~~~~~~~~
Copy & paste code below to your webpage. Click Ctrl + A & Ctrl + C ( Copy )




alt="wiwie's blog" />

~:ChAtBoX:~
Nak kawin x? cuba klik sini
MasKahwin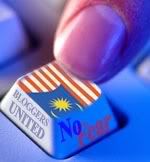 Archives

~:My BoOk's Shelf :~

~:DeAriE:~
Pre-Birthday Lunch at BLVD

6 months ago

Tips Kesihatan : Resdung oh Resdung

1 year ago

17 bulan...

6 years ago

~:MeMbErS:~