by Wiznie Marzuki on Friday, August 17, 2007, under me myself n i
5aug 07 – arrive in KL by train from Pasir Mas. My father came to pick me up. On the same day, went to UKM to get my jubah konvo.. Actually today, eina invite me to join her to go to PC Fair in KLCC dis evening, but then she's not feeling well, having her migraine so we had to postponed our meeting…

6aug 07 – after office hours, eina n ayit came n pick me up at myhouse…juz hanging out together… have some chat n food… n get back home at 1030.

7aug 07 – went to UKM, to meet my dear fren Rahah who just got back from India n also wanna meet Yan now working at a kiosk down in Pusanika. After I accompany them taking their jubah for our konvo, Rahah n me went to Midvalley to watch movie Transformers n eat Tako…wahhhhh, I miss it!

8aug 07 – in early morning, I got sms from Sarah, my ex-schoolmate. She asked me whether I'm free or not n if I wanna accompany her to eat n watch movie on her treat. Of course I said yes! At least I had sumthin to do today. So, we hangout in KLCC, had some chat, food n watch Harry Porter… Good news is, she's pregnant n its 3month already.. She showed me her scan pic of her baby…eventhough its not dat clear but I'm so happy for her. Its her first child. About 530pm, we separate at the Central Market LRT.. while on my way going home, I met Azim my ex-schoolmate in the LRT and he's following the programmer training at Cosmopoint. And when I'm taking the bus to get home, I met Adila also my ex-schoolmate working at Menara Axis PJ, contract worker as boss assistant, but she's going to find another job while working there in the mean time.

12aug 07 – today, bout 12am, me and Aya had our girls' time at OneUtama… dis time not only window but real shopping…hehe. Alahai, kebanyakannya pun barang2 umah jer.. gimik jer lebih.. huh! Makan time tuh, kitorg menikmatinya kat DaveDeli… lama sehh xmkn quarter roast chicken tuh.. mmg puas hati lah.. ahaks. Then, dlm kul6pm barulah gerak balik umah..

14aug 07 – today, after papa gone to work… wie terus siap n kuar menuju ke kwsn segitigaemas KL… first, around 1130am went to Lowyat, coz nk cari pendrive n also ink printer.. then, went to TimesSquare… tujuannya nak jumpa my cousin who works at Elements.. but then, when I ask the staff, she told me mykezen dah resign.. so, I called her n she agreed to meet me. I treat her for a movie 'RushHour3' and she treat me for lunch.. where? Alahai, food court atas BB Plaza tuhh… movie tuh ekceli start at 110pm but then kitorg masuk kul130pm…hehe. Mujurler movie baru start.. perghh, buatnya mcm k'fy arituh masa tgk 'Final Destination3' dah mula cket.. xker best tuhh.. lalalalaaa… so, bout 4pm kitorg separate kat KLsentral… ronggeng2 jap situ.. kul530 sampai umah… hehe. begitulah hari2 yg berlalu..
0 comments for this entry:
~:WeLcOmE:~
Bayangkan makhluk kupu-kupu yang lemah mampu merungkai balutan kepompongnya
dan menjelma sebagai ciptaan yang sempurna dan indah, walaupun anugerah Maha
Pencipta sekadar tubuh kecil dan kudrat terbatas semata-mata.
Begitulah umpamanya insan yang berdikari, cekal mengemudi haluan nasib tanpa
meminta belas simpati, walau betapa besar cabaran yang diharungi.
Walaupun kadangkala timbul rasa ragu dan rendah diri, namun bagai kupu-kupu
kita mampu terbang lebih tinggi, jika kita yakin dengan kemampuan daya usaha sendiri.
Selamat datang ke blog saya... Tinggalkanlah sekurang-kurangnya ucapan salam buat saya. Terima Kasih...
~:can reach me via dis email
wittyghost84@yahoo.com n also for my YM:~

~:MuTiArA HaTi:~
~~~~~~~~~~~~~~~~~~~~
~~~~~~~~~~~~~~~~~~~~
Copy & paste code below to your webpage. Click Ctrl + A & Ctrl + C ( Copy )




alt="wiwie's blog" />

~:ChAtBoX:~
Nak kawin x? cuba klik sini
MasKahwin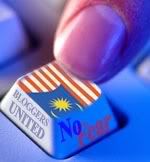 Archives

~:My BoOk's Shelf :~

~:DeAriE:~
Pre-Birthday Lunch at BLVD

8 months ago

Tips Kesihatan : Resdung oh Resdung

2 years ago

17 bulan...

6 years ago

~:MeMbErS:~