by Wiznie Marzuki on Monday, September 10, 2007, under me myself n i
Salam to all..
i've been teaching at the Kangkong Secondary School since last 4days..it is in PasirMas... although i'm in PasirMas also..but still, its far from my house.. it takes about 25minutes for me to get there...so, what do i teach? i teaches maths for 3classes form2, geography 1class form2, Sivic form3, revision math form5.. but, i only entered the form2 classes..wut about form3 n form5? erm..right now, they are sitting for exam papers.. well, surely for this few days i have to get myself comfortable with them, get to know them better...what they have learn..n have to catch up the topics, finishing the syllabus..it seems like i have to teach them until the final exam.. so, that is my responsibility now.
0 comments for this entry:
~:WeLcOmE:~
Bayangkan makhluk kupu-kupu yang lemah mampu merungkai balutan kepompongnya
dan menjelma sebagai ciptaan yang sempurna dan indah, walaupun anugerah Maha
Pencipta sekadar tubuh kecil dan kudrat terbatas semata-mata.
Begitulah umpamanya insan yang berdikari, cekal mengemudi haluan nasib tanpa
meminta belas simpati, walau betapa besar cabaran yang diharungi.
Walaupun kadangkala timbul rasa ragu dan rendah diri, namun bagai kupu-kupu
kita mampu terbang lebih tinggi, jika kita yakin dengan kemampuan daya usaha sendiri.
Selamat datang ke blog saya... Tinggalkanlah sekurang-kurangnya ucapan salam buat saya. Terima Kasih...
~:can reach me via dis email
wittyghost84@yahoo.com n also for my YM:~

~:MuTiArA HaTi:~
~~~~~~~~~~~~~~~~~~~~
~~~~~~~~~~~~~~~~~~~~
Copy & paste code below to your webpage. Click Ctrl + A & Ctrl + C ( Copy )




alt="wiwie's blog" />

~:ChAtBoX:~
Nak kawin x? cuba klik sini
MasKahwin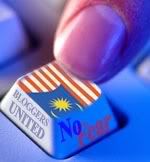 Archives

~:My BoOk's Shelf :~

~:DeAriE:~
Pre-Birthday Lunch at BLVD

7 months ago

Tips Kesihatan : Resdung oh Resdung

2 years ago

17 bulan...

6 years ago

~:MeMbErS:~