by Wiznie Marzuki on Wednesday, February 13, 2008, under me myself n i
Salam semua..
erm.. setelah sekian lama? lama ker wie xwat entry yer?? lama jgk khan bg wie r...alahai, windu r nak berceloteh dcni..hehe.. neway, wie still kat kelantan, helping my mummy running her biz... but then, erm last 2weeks i think, i got a call from k'i offering a job in UPM, n after a few minutes later i accept it right after i ask my mummy's permission, my papa not yet... hehe~ then, while i'm in KL for chinese nuyer holiday n specially for my kezen's wedding... i discuss about it with my papa.. n he juz approved it.. xckp byk jgk r kiranya.. erm, xpelah.. i guess i'll start from here in UPM.. juz wanna get some experience n so on... hopefully i'm ok with it... i'm going to start the job on 26feb.. so, i'll b back in KJ dis 20feb i think.. hehe~ miss all my frens... forward to see them also.. oh ye, 1more thing.. i'm going to miss driving..waaaaaa.... but, its ok, i'll try to get one on my own one day.. hehe... until then, daaaa.....
0 comments for this entry:
~:WeLcOmE:~
Bayangkan makhluk kupu-kupu yang lemah mampu merungkai balutan kepompongnya
dan menjelma sebagai ciptaan yang sempurna dan indah, walaupun anugerah Maha
Pencipta sekadar tubuh kecil dan kudrat terbatas semata-mata.
Begitulah umpamanya insan yang berdikari, cekal mengemudi haluan nasib tanpa
meminta belas simpati, walau betapa besar cabaran yang diharungi.
Walaupun kadangkala timbul rasa ragu dan rendah diri, namun bagai kupu-kupu
kita mampu terbang lebih tinggi, jika kita yakin dengan kemampuan daya usaha sendiri.
Selamat datang ke blog saya... Tinggalkanlah sekurang-kurangnya ucapan salam buat saya. Terima Kasih...
~:can reach me via dis email
wittyghost84@yahoo.com n also for my YM:~

~:MuTiArA HaTi:~
~~~~~~~~~~~~~~~~~~~~
~~~~~~~~~~~~~~~~~~~~
Copy & paste code below to your webpage. Click Ctrl + A & Ctrl + C ( Copy )




alt="wiwie's blog" />

~:ChAtBoX:~
Nak kawin x? cuba klik sini
MasKahwin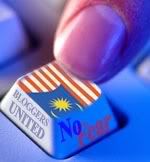 Archives

~:My BoOk's Shelf :~

~:DeAriE:~
Pre-Birthday Lunch at BLVD

8 months ago

Tips Kesihatan : Resdung oh Resdung

2 years ago

17 bulan...

6 years ago

~:MeMbErS:~