by Wiznie Marzuki on Friday, March 14, 2008, under me myself n i
Well, its been two weeks since I've worked here. I think for now I can cooperate with this job. And now, I'm no longer staying at my aunt's house, I moved out to Serdang already and this place is much more closer to UPM for sure. And the important thing is, I just have to walk bout 5-7minutes in order to get me to the forestry. So, it doesn't cost me with any transportation here. But, still I want to own a car. I know that I just need to be patient and insyaAllah I'll get it one day. Well, still I'm hoping for it to become reality. (sigh!) enough bout it. So, I've been introduce to my new housemate thru k'I and also abby. Thanx to them, and specially to k'I for everything and also that I might have troubled her.

My new housemate is kakLa, Sil, kakMiza, Ramza and Muni. They are all working in UPM except Sil bcoz she's working at RHB Bank. And my roommate is kakLa n Sil. Eventhough I'm new there, but then I don't feel like one. They treat me just like others, and I know that they are trying to make me feel like I'm home. I appreciate it so much, and I'm also trying to adapt with the new environment here. And I hope that everything is going to be fine here. So, that's it. I'm in Serdang now, not in Bangi anymore. Hehehe~ One more thing, I have to explore the way to get here by public transport. Its so… whatever. I really need to know well bout this place, so I wont feel like I'm an alien or sumthing. (sigh again..)

Today, after work, I wanna go home. I want to meet my mummy n also my siblings before they get back to kelantan. My uncle is on his way from kelantan to fetch them here.And they will depart maybe a few hours after he got here.He's rushing bcoz he still hv to go to work early tomorrow, teaching those kids at school. Well, u know what? It reminds me of my previous job as a teacher at my uncle's school. Oh, how I miss to meet them and teaching them again. I guess, time passing by, and they will grow up. So, I'll just pray for their success. And I hope they will. Erm, it almost 430pm now, got 30 min left for me to settle my task for today. I'm going home.. til then, daaa.


0 comments for this entry:
~:WeLcOmE:~
Bayangkan makhluk kupu-kupu yang lemah mampu merungkai balutan kepompongnya
dan menjelma sebagai ciptaan yang sempurna dan indah, walaupun anugerah Maha
Pencipta sekadar tubuh kecil dan kudrat terbatas semata-mata.
Begitulah umpamanya insan yang berdikari, cekal mengemudi haluan nasib tanpa
meminta belas simpati, walau betapa besar cabaran yang diharungi.
Walaupun kadangkala timbul rasa ragu dan rendah diri, namun bagai kupu-kupu
kita mampu terbang lebih tinggi, jika kita yakin dengan kemampuan daya usaha sendiri.
Selamat datang ke blog saya... Tinggalkanlah sekurang-kurangnya ucapan salam buat saya. Terima Kasih...
~:can reach me via dis email
wittyghost84@yahoo.com n also for my YM:~

~:MuTiArA HaTi:~
~~~~~~~~~~~~~~~~~~~~
~~~~~~~~~~~~~~~~~~~~
Copy & paste code below to your webpage. Click Ctrl + A & Ctrl + C ( Copy )




alt="wiwie's blog" />

~:ChAtBoX:~
Nak kawin x? cuba klik sini
MasKahwin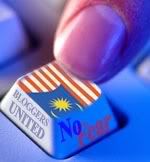 Archives

~:My BoOk's Shelf :~

~:DeAriE:~
Pre-Birthday Lunch at BLVD

7 months ago

Tips Kesihatan : Resdung oh Resdung

2 years ago

17 bulan...

6 years ago

~:MeMbErS:~