by Wiznie Marzuki on Tuesday, April 22, 2008, under me myself n i
Last wiken, i juz lepaking at my house... opsss, no lah! me n mysis.. we decide to join her fren that is Wanie, Atun n Zara hangout to TheCurve.. Cineleisure actually.. we went there to watch movie.. firstly decide to watch OverHerDeadbody.. but then, after that we decide to watch "CONGKAK" wahhhh, not so scared as it been told.. hehe.. lawak pun ader.. tekejut pun ade... ntahlah..mmg xtakut pun..eventhough i have to cover up my eyes while watching..but.. still, x takut pun.. lalalalaaa.. agak r berlagak kn.. ahaks. patutnye citer neh tajuk "Lisa" nape? sebab, opah tuh asyik duk panggil Lisa jer..n also ajak main congkak..hehe. tp, sebab dh tgk JgnPdgBlkg dulu, so yg neh mcm xbape takut sgt r..so, pastuh kitorg round skjp n went home.. mlm tuh kitorg tgk konsert AF yg ntah ape2.. ada yg best tuh xpe r. yg xbest tuh ciannyer... gasak r korg..sape suh masuk kalu xnk kena kutuk..ahaks.. jahat den... lalalaa..so, thats on saturday..
On sunday morning, when i woke up i just ask mysis.. "Jom g tgk L" hehe.. dia mmg on je.. plus, its my treat..huhuhu.. ape2lah, janji dpt tgk "L:Change the world", so that day kitorg that is me, Aya n Atun g tgk kt GSC OUtama..not badlah.. i thought its still bout DeathNote but then, its all about a dangerous virus that they want to spread until there's less human left in this world...and L's task is to prevent it from happen.
0 comments for this entry:
~:WeLcOmE:~
Bayangkan makhluk kupu-kupu yang lemah mampu merungkai balutan kepompongnya
dan menjelma sebagai ciptaan yang sempurna dan indah, walaupun anugerah Maha
Pencipta sekadar tubuh kecil dan kudrat terbatas semata-mata.
Begitulah umpamanya insan yang berdikari, cekal mengemudi haluan nasib tanpa
meminta belas simpati, walau betapa besar cabaran yang diharungi.
Walaupun kadangkala timbul rasa ragu dan rendah diri, namun bagai kupu-kupu
kita mampu terbang lebih tinggi, jika kita yakin dengan kemampuan daya usaha sendiri.
Selamat datang ke blog saya... Tinggalkanlah sekurang-kurangnya ucapan salam buat saya. Terima Kasih...
~:can reach me via dis email
wittyghost84@yahoo.com n also for my YM:~

~:MuTiArA HaTi:~
~~~~~~~~~~~~~~~~~~~~
~~~~~~~~~~~~~~~~~~~~
Copy & paste code below to your webpage. Click Ctrl + A & Ctrl + C ( Copy )




alt="wiwie's blog" />

~:ChAtBoX:~
Nak kawin x? cuba klik sini
MasKahwin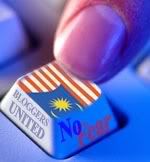 Archives

~:My BoOk's Shelf :~

~:DeAriE:~
Pre-Birthday Lunch at BLVD

8 months ago

Tips Kesihatan : Resdung oh Resdung

2 years ago

17 bulan...

6 years ago

~:MeMbErS:~