by Wiznie Marzuki on Tuesday, May 27, 2008,
Q1 : Who is the professional image consultant dishing out juicy tips on how to look your best at CloveTWO.com's Lookin' Good section?
A1 : Wendy Lee
Q2 : Name the bloggers at the Guy and Parent blogs.
A2 : Andrew William and Sharmila Rajah
Q3 : At which section do you find stories on women's fashion and beauty?
A3 : Style Sheet
Slogan :
Attending Dreamz would be a dream come true for me because i loved to dream and to fulfilling it, I would do anything. I never had a chance in my life to see this, so I'm hoping that this chance would help me on fulfilling my dream to experience the Dreamz.
Guys.. feel free to join me in fulfilling our dreams together.. so, check this out:
Dream a little Dreamz Contest
How does a night of daredevil stunts, magic, music and acrobatics sound to you? If it sounds great, then you will most certainly enjoy the Dreamz extravaganza. The AMBP and CloveTWO, in cooperation with Genting - City of Entertainment, are giving away 80 double passes (each double pass is worth RM260) to the live show and all you have to do is complete the simple tasks we've outlined here:
http://www.allmalaysia.info/ambp/contest/dreamz/
0 comments for this entry:
~:WeLcOmE:~
Bayangkan makhluk kupu-kupu yang lemah mampu merungkai balutan kepompongnya
dan menjelma sebagai ciptaan yang sempurna dan indah, walaupun anugerah Maha
Pencipta sekadar tubuh kecil dan kudrat terbatas semata-mata.
Begitulah umpamanya insan yang berdikari, cekal mengemudi haluan nasib tanpa
meminta belas simpati, walau betapa besar cabaran yang diharungi.
Walaupun kadangkala timbul rasa ragu dan rendah diri, namun bagai kupu-kupu
kita mampu terbang lebih tinggi, jika kita yakin dengan kemampuan daya usaha sendiri.
Selamat datang ke blog saya... Tinggalkanlah sekurang-kurangnya ucapan salam buat saya. Terima Kasih...
~:can reach me via dis email
wittyghost84@yahoo.com n also for my YM:~

~:MuTiArA HaTi:~
~~~~~~~~~~~~~~~~~~~~
~~~~~~~~~~~~~~~~~~~~
Copy & paste code below to your webpage. Click Ctrl + A & Ctrl + C ( Copy )




alt="wiwie's blog" />

~:ChAtBoX:~
Nak kawin x? cuba klik sini
MasKahwin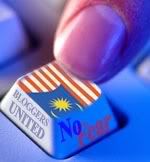 Archives

~:My BoOk's Shelf :~

~:DeAriE:~
Pre-Birthday Lunch at BLVD

7 months ago

Tips Kesihatan : Resdung oh Resdung

2 years ago

17 bulan...

6 years ago

~:MeMbErS:~