by Wiznie Marzuki on Wednesday, June 25, 2008,

my words ~

You know what? Let me tell you a story I had before I make this entry this morning. It happened yesterday. I was at my house that I rent together with my friends. When I told them about this contest, they said go ahead n learn on how to bake something that people wont even dare to taste it.. waahh, I'm so pissed off… am I too bad on baking? why did they say something like that to me? Because for what I remember, I take responsibility to bake chocolate cake for my cousins open house and also for any occasion that my family had. Obviously, they all like it even the guest. But, still I know that I have to learn more on the secret of baking. And, actually they didn't mean to make me becoming a kingkong. They just being sarcastic, as i didn't bake anything since I moved into the house. Hahahhaa! And, they also give me some suggestion on baking cakes that I mentioned earlier on top, one of it is try to bake something that one of the ingredients would be 'budu' or 'tempoyak' or 'cencaluk'. Can u imagine the taste of those in cakes or buns? Perghhhh! I cant even imagine anyone would have the guts to taste it and definitely not me. Hehehe. So, that was my story.. just a chitchat with my housemates, nothing serious and of course no heart feeling.


Eventhough, this contest only choose the top five luckiest person over the list, i hope i'm one of them..And if i was chosen to be the lucky person, i'll be very thankful for it would be my first ever baking class and i do hope that one day, i'll open up my own bakery. Moreover, i'm a chocolate lover and i would love to learn on how to bake yummy cake, cookies and sweet buns. I also want people to feel what i feel when i baked it and for them to remember the long lasting taste of it. And not to bake something that people wont dare to taste it.. i'm dead lah, if i do it. because even if people will remember the bad taste forever, but of course we dont want to create bad image in their eyes about us, right? hehehe~ so, i'm looking forward to be one of them.

Assalamu'alaikum n a very good morning....

Hey uols... if u want to join on baking those yummy cake, cookies and buns.. So, feel free to make an entry, same as what i did on top. You can click at the picture for the details. Good luck to you and for me too.. hehe~
0 comments for this entry:
~:WeLcOmE:~
Bayangkan makhluk kupu-kupu yang lemah mampu merungkai balutan kepompongnya
dan menjelma sebagai ciptaan yang sempurna dan indah, walaupun anugerah Maha
Pencipta sekadar tubuh kecil dan kudrat terbatas semata-mata.
Begitulah umpamanya insan yang berdikari, cekal mengemudi haluan nasib tanpa
meminta belas simpati, walau betapa besar cabaran yang diharungi.
Walaupun kadangkala timbul rasa ragu dan rendah diri, namun bagai kupu-kupu
kita mampu terbang lebih tinggi, jika kita yakin dengan kemampuan daya usaha sendiri.
Selamat datang ke blog saya... Tinggalkanlah sekurang-kurangnya ucapan salam buat saya. Terima Kasih...
~:can reach me via dis email
wittyghost84@yahoo.com n also for my YM:~

~:MuTiArA HaTi:~
~~~~~~~~~~~~~~~~~~~~
~~~~~~~~~~~~~~~~~~~~
Copy & paste code below to your webpage. Click Ctrl + A & Ctrl + C ( Copy )




alt="wiwie's blog" />

~:ChAtBoX:~
Nak kawin x? cuba klik sini
MasKahwin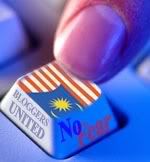 Archives

~:My BoOk's Shelf :~

~:DeAriE:~
Pre-Birthday Lunch at BLVD

6 months ago

Tips Kesihatan : Resdung oh Resdung

1 year ago

17 bulan...

6 years ago

~:MeMbErS:~