by Wiznie Marzuki on Monday, June 02, 2008, under me myself n i
we all at
the wishing stairs.. hahaha. my wish!
the 3dara pinggitan? ahaks~ kakIna, yan n me.
and finally the bride n groom.. abgEdi n kakErneeza
Salam..
How was ur weekend guys? I hope everything's fine according to your plan.Well, this weekend kind of hectic for me.. huhu. Not really actually, but I just feel tired.. on 31Mei0
8, there's a wedding of my ex-housemate at her house in Banting, so I just borrowed my father's car in order to get us there.. I mean my friends n i. We off from Bangi at 1030am n reached there bout 1130am. I have to stay overnight in Bangi the night before. Moreover, I missed my friends there also my sis from Kulim. That's why I choose to overnight and have a chat with them. Its been a while since I last met them. Eventhough I only have one night with them, but its fine. Because on the day of sisErn's wedding, I have to rush back to KelanaJaya for my schoolmate's wedding, must meet Ummul Amira first. We promised to go there together. Well, she brings along her boyfriend. Her bf is quite friendly, so I don't feel awkward while with him. And for Ummul, she's small… please mydear.. eat more! huhuhu.. i'm just jealous to see people that is smaller than me.
.
hahaha…well, I'm off from Banting at 2pm after we eat and take those beautiful pictures. Tq to sisFify, sisIna n mydear Yan for your cameras. Anyway, Congratulation to kakErn and abgEdi for your wedding.
more pics of k'ern n abgEdi, click
here
and
here
..
Well, for my second trip on that day I reached KelanaJaya bout 4pm, met Ummul first n went there with her car. Congratulation to my friend Shafieza and her husband Amzair for your wedding. Ohh! We chat and I just found out that she's married with Amzair n he's from KotaBharu. That's nice. Erm, sounds like I know him, but I don't. hehehe. And after that, around 445pm I called my friend, because early in this morning she called me and ask my fa
vor to accompany her to the akadnikah one of our schoolmate also that is Haliza. She's going to have the akadnikah around 5pm. So, after Shafieza's kenduri, I went to the TabungHaji building that is near to my house. The akadnikah went just fine with one lafaz. Alhamdulillah. So, her solemnization will be held at her house a day after, but I didn't go. I've choose to follow my family to Nilai3 on Sunday.
Saturday night, my sister's flight from Melbourne just landed in Malaysia. And I know that I've got the wrong information, I remembered that she told me bout her flight departed at 3pm but I just didn't remember that the journey is only 7hours and she'll arrive bout 10pm. So, I went to KLIA with my family around 8pm.. and that is the wrong information.. huhu
huhu.. I'm so tired, and now we have to wait for her flight bout 2 hours more. Aiyoo! And at 1030pm
, I met wanie and her sister ina n yin.. they all went to Melbourne with mysister. After the meeting, we went back to our home.. opps, nope! We went to eat sate. Hehehe. And then after that, we went straight home.. cant wait to see what have she bought for us.
Well, early in Sunday morning I helped my mum buy the ingredients to cook nasikerabu and we do the cooking that my papa had request. In the afternoon, my kezen n his wife also his mum come to my house, we enjoy our meal before he went to his friend's wedding n my family went to Nilai3 at 3pm. We reached home KJ bout 8pm. I have to refreshed myself and packed my things for I have to go back to Serdang. I'm off bout 845pm and reached Serdang at 930pm. What a weekend I had… Finally, I'm working now.. hehehe. I just wish and pray for their happiness in this world and hereafter. InsyaAllah. Aminnn…
0 comments for this entry:
~:WeLcOmE:~
Bayangkan makhluk kupu-kupu yang lemah mampu merungkai balutan kepompongnya
dan menjelma sebagai ciptaan yang sempurna dan indah, walaupun anugerah Maha
Pencipta sekadar tubuh kecil dan kudrat terbatas semata-mata.
Begitulah umpamanya insan yang berdikari, cekal mengemudi haluan nasib tanpa
meminta belas simpati, walau betapa besar cabaran yang diharungi.
Walaupun kadangkala timbul rasa ragu dan rendah diri, namun bagai kupu-kupu
kita mampu terbang lebih tinggi, jika kita yakin dengan kemampuan daya usaha sendiri.
Selamat datang ke blog saya... Tinggalkanlah sekurang-kurangnya ucapan salam buat saya. Terima Kasih...
~:can reach me via dis email
wittyghost84@yahoo.com n also for my YM:~

~:MuTiArA HaTi:~
~~~~~~~~~~~~~~~~~~~~
~~~~~~~~~~~~~~~~~~~~
Copy & paste code below to your webpage. Click Ctrl + A & Ctrl + C ( Copy )




alt="wiwie's blog" />

~:ChAtBoX:~
Nak kawin x? cuba klik sini
MasKahwin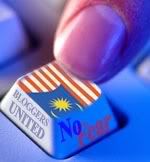 Archives

~:My BoOk's Shelf :~

~:DeAriE:~
Pre-Birthday Lunch at BLVD

7 months ago

Tips Kesihatan : Resdung oh Resdung

2 years ago

17 bulan...

6 years ago

~:MeMbErS:~