by Wiznie Marzuki on Monday, June 30, 2008, under me myself n i
khamis mlm jumaat, i hv to go back to KJaya.. meet my mummy, before she n papa went back to kelantan d next day.. tp, jumaat tuh sy tetap keje, so.. bgn pagi2 lg, after subuh dlm kul6 dh naik lrt n komuter heading to serdang.hehe~ btul2 smpi ofis kul8.. cayalah! tp, letih wooo bkejar ke opis tuh.. ahaks~ n ptg jumaat after abis keje, blk smula ke KJaya ade date laks dgn eina n ayit.. before that, maiza helped me.. she gves me a ride to KJaya.. thanx babe! plus, she also want sumone to accompany her along d way.. heee~ so, after mghrb kt umah, wie n eina ke WangsaMaju.. tempat lepak biasa d NZ WMaju.. dr kul10 smpi kul4pg, barulah kitorg balik umah.. perghhh, gler ngantuk!! hahaha~

dh la sok pg, janji nk follow kakLa ke ShAlam.. dia nk amik keta baru... Persona.. 2buah! kakLa n kakNurul.. n thanx to mydear eina.. coz givs us a ride smpi tempat keta tuh.. kitorg g ber4, me kakLa, kakNurul n Ijan.. kakLa is my hosmet n 2org lg tuh ofismate kakLa.. after g amik keta tuh, kitorg ke kgMelayuSubang laks, wt tinted utk keta2 tuh.. perghh.. kitorg meet kt komuter batu3 dlm kul930...eina anta kitorg... pastuh, duk sibuk cek2 keta.. sign2 borang.. kul11 g tinted.. duk tgk2 n pilih nk tinted cane.. kaler ape.. both owner decide to choose silver for tinted the cars. ekceli xde la lama manapun proses tinted neh.. tp, bila berderet keta yg nk tinted, tu psl jd lama.. huhu~ siap tinted dlm kul3.. pastu, g solat dulu.. after that, kitorg ke Brothers KJ, diorg nk cari steering lock.. alang2 duk ctu diorg beli accessories yg bkenan dhati.. hehe~ n i got 1cute small car keychain from him.. ahaks~ Tq. well, i gv him 1koala keychain. after that,while kt KJ neh, why not i drop by at myhouse for a moment..just wanna bring back some groceries to serdang.. if kt umah KJ neh nk msk nnt, belila brg kt psr pg..xsusah pn.. hehe~ n pastu, we all went back to Serdang. reach Serdang bout 5pm.. Ijan ajar diorg how to use the steering lock..n he help us to repair the lamp in our bathroom.. n he also help us to change the main door lock yesterday. again Thanx to him. Erm, he also ask me to accompany him to Ikea, n i said yes..he just want to survey the price for setting up a bedroom for his client's daughter. reach Ikea bout 630pm.. perform solah first before the survey process... n again he bought me a nice red pillow.. isnt it sweet? hehe~ wutever! pastuh, solat mghrb dulu.. n then, we hv our dinner.. chicken rice! erm, kt maner yer.. lupa lah nama tempat, tp dlm area gombak la.. well, nasiayam tuh mmg sedap! hehe~ pas abis dinner, he drive me to serdang.. arrive home at 1030pm... erm, Thanx to him.. the next morning, he ask me to accompany him for breakfast... we had nasilemak.. and after that, i decide to follow kakLa n kakNurul to bukitekspo UPM.. kakLa nk ajak kakNurul drive.. dia xberapa cekap lg guna manual.. so, she wants to learn until she knows how to drive her car smoothly.. hehe~ before that, kitorg singgah jap kt fak Ekologi, kakNurul nk mandikan kereta dia dgn airSolathajat. for good luck. kitorg temankn kakNurul drive smpi kul1... well, kakNurl nye progress dh semakin baik.. even today, she booked kakLa again for her driving class.. hehe~ gdluck sis! so, thats all for last wiken. enjoy!!
0 comments for this entry:
~:WeLcOmE:~
Bayangkan makhluk kupu-kupu yang lemah mampu merungkai balutan kepompongnya
dan menjelma sebagai ciptaan yang sempurna dan indah, walaupun anugerah Maha
Pencipta sekadar tubuh kecil dan kudrat terbatas semata-mata.
Begitulah umpamanya insan yang berdikari, cekal mengemudi haluan nasib tanpa
meminta belas simpati, walau betapa besar cabaran yang diharungi.
Walaupun kadangkala timbul rasa ragu dan rendah diri, namun bagai kupu-kupu
kita mampu terbang lebih tinggi, jika kita yakin dengan kemampuan daya usaha sendiri.
Selamat datang ke blog saya... Tinggalkanlah sekurang-kurangnya ucapan salam buat saya. Terima Kasih...
~:can reach me via dis email
wittyghost84@yahoo.com n also for my YM:~

~:MuTiArA HaTi:~
~~~~~~~~~~~~~~~~~~~~
~~~~~~~~~~~~~~~~~~~~
Copy & paste code below to your webpage. Click Ctrl + A & Ctrl + C ( Copy )




alt="wiwie's blog" />

~:ChAtBoX:~
Nak kawin x? cuba klik sini
MasKahwin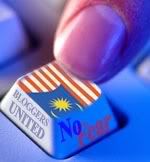 Archives

~:My BoOk's Shelf :~

~:DeAriE:~
Pre-Birthday Lunch at BLVD

6 months ago

Tips Kesihatan : Resdung oh Resdung

1 year ago

17 bulan...

6 years ago

~:MeMbErS:~