by Wiznie Marzuki on Saturday, July 26, 2008, under me myself n i
hye uols...
so, its already 3weeks i went to the classes in shrdc.. there's bootcamp, ict user competency class and now we're having our sql class. next wednesday, we're going to have our assessment. pray for us please. hehe~ i pray for all of us to pass it with flying colors.. aminn..

so, guys.. whats up? any good or bad news? hope that uol will be in happy mood alwiz.. dun feel bad ok... life just once.. so, just live life to the fullest ok.. cheer up!

well, for me there's a lot of things happen to me and people around me in this month. i wonder why.. first, i met him and i'm happy.. second, its bout dell offer in shrdc.. third, mysis had told my parents about her bf and i'm happy for her.. and last 2nights we had our dinner at the hokkaido restaurant beside the vistana hotel in KL. this dinner is for our family on getting to know my future bro-in-law closer.. and insyaAllah this coming raya, he'll come with his family to our home in kelantan. do i really need to wonder why..its normal right.. for u,maybe its nothing.. but to me of course its something.. hehehe~

u know what...sometimes i feel like asking myself the same question that i dont know what are the answer... do i really want to be with him? when i ask someone, he said just let urself be happy while with him.. dont simply give any pressure to him.. just relax and most important be urself.. yeah, i know that.. neway, thanx for the advise. i just wanna be me.. appreciate it all.
til then, daaa...
4 comments for this entry:
~:WeLcOmE:~
Bayangkan makhluk kupu-kupu yang lemah mampu merungkai balutan kepompongnya
dan menjelma sebagai ciptaan yang sempurna dan indah, walaupun anugerah Maha
Pencipta sekadar tubuh kecil dan kudrat terbatas semata-mata.
Begitulah umpamanya insan yang berdikari, cekal mengemudi haluan nasib tanpa
meminta belas simpati, walau betapa besar cabaran yang diharungi.
Walaupun kadangkala timbul rasa ragu dan rendah diri, namun bagai kupu-kupu
kita mampu terbang lebih tinggi, jika kita yakin dengan kemampuan daya usaha sendiri.
Selamat datang ke blog saya... Tinggalkanlah sekurang-kurangnya ucapan salam buat saya. Terima Kasih...
~:can reach me via dis email
wittyghost84@yahoo.com n also for my YM:~

~:MuTiArA HaTi:~
~~~~~~~~~~~~~~~~~~~~
~~~~~~~~~~~~~~~~~~~~
Copy & paste code below to your webpage. Click Ctrl + A & Ctrl + C ( Copy )




alt="wiwie's blog" />

~:ChAtBoX:~
Nak kawin x? cuba klik sini
MasKahwin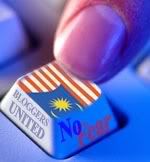 Archives

~:My BoOk's Shelf :~

~:DeAriE:~
Pre-Birthday Lunch at BLVD

8 months ago

Tips Kesihatan : Resdung oh Resdung

2 years ago

17 bulan...

6 years ago

~:MeMbErS:~