by Wiznie Marzuki on Friday, August 22, 2008, under friends
hye uols.. hehe.
what have i done in this week? well, its a school holiday.. so, my mummy n all my siblings going to be in here, means PJ.. so, we had times together.. hangin out to eat.. plus myuncle came here bcoz of his son-in-law is in the hospital ward, he got strok.. i quite shocked to hear the news..he's still young.. but then, yeah.. we dont know what's goin to happen to ourselves.. we can get any disease if we dun care of ourselves.. in order to not to get any illness, do care of what u eat and in other words.. do care of how do u live ur life... if u wanna be healthy, then u know what u hv to do.. but, also we should know that no matter what, we still hv to pray to Him for our healthy, so that we can do any work without suffering.. but then, if u sick.. its maybe becoz of He loves you and He wants u to be stronger than before by facing all problems that came to you wisely..
well, myuncle n his wife were here bout 3days only, n they already went back to kelantan.

erm, in this week also, a lot of my frens are celebrating their birthday.. and i would like to wish them in here..

Happy 24th Birthday to Izan on 14aug08.. she's one of myfren during my training in shahAlam right now..

Happy 26th Birthday to mydear sista KakLaila on 18aug08.. she's married to my kezen abeYuh..

Happy 26th Birthday to sisWani on 21aug08.. my previous housemate when i'm in UKM... and wish u gudluck for ur PhD... and also pray for her to get babies.. hehe.

last but not least for this month...
Happy 21th Birthday to Heizad on 22aug08.. one of the guys in my training.. and wanna mention here that, he's the youngest among all of us.. hehe.

well, for kakLaila... my kezen, abeYuh.. he called me on the night before 18aug.. he wants to make a surprise for his wife.. first i thought that he will ask his wife to a romantic dinner or somethin like that and just two of them.. but then, he called me and ask me to buy a choc cake n also other foods.. i decide to bought a chocolate cheese cake from secret recipe.. i hv no choice of choc cake by that time.. so, i'm sorry kakLa if the cake doesnt satisfy u.. hhuhu.. n also i bought kfc.. for the kids n us... hehe.. n what did Eyuh gv his wife for the present? guess what! Guess hadbag.. hehee.. i know that kakLa had wanting for a new handbag since last 2-3months..so, congratulations.. even though i didnt see the handbag yet.. but, i'm sure it will be gorgeous on u sis! hehhe ;) Happy Birthday again.. n hopefully both of u will get babies soon.. chaiyo! chaiyo! and for kakLa.. be patient in EnY.. for u will start on working in a new environment nextweek.. congratulations!

so, thats all for now.. til then, daaa..
:
friends

0 comments for this entry:
~:WeLcOmE:~
Bayangkan makhluk kupu-kupu yang lemah mampu merungkai balutan kepompongnya
dan menjelma sebagai ciptaan yang sempurna dan indah, walaupun anugerah Maha
Pencipta sekadar tubuh kecil dan kudrat terbatas semata-mata.
Begitulah umpamanya insan yang berdikari, cekal mengemudi haluan nasib tanpa
meminta belas simpati, walau betapa besar cabaran yang diharungi.
Walaupun kadangkala timbul rasa ragu dan rendah diri, namun bagai kupu-kupu
kita mampu terbang lebih tinggi, jika kita yakin dengan kemampuan daya usaha sendiri.
Selamat datang ke blog saya... Tinggalkanlah sekurang-kurangnya ucapan salam buat saya. Terima Kasih...
~:can reach me via dis email
wittyghost84@yahoo.com n also for my YM:~

~:MuTiArA HaTi:~
~~~~~~~~~~~~~~~~~~~~
~~~~~~~~~~~~~~~~~~~~
Copy & paste code below to your webpage. Click Ctrl + A & Ctrl + C ( Copy )




alt="wiwie's blog" />

~:ChAtBoX:~
Nak kawin x? cuba klik sini
MasKahwin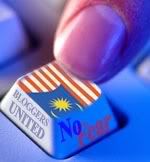 Archives

~:My BoOk's Shelf :~

~:DeAriE:~
Pre-Birthday Lunch at BLVD

7 months ago

Tips Kesihatan : Resdung oh Resdung

2 years ago

17 bulan...

6 years ago

~:MeMbErS:~