by Wiznie Marzuki on Sunday, August 31, 2008, under special day
This year, Malaysia celebrate 51st anniversary of independent. The theme for this year is "Perpaduan Teras Kejayaan" and the logo for this year is above. This logo represent our harmony and the races of Malaysia.
The rational behind the colours are:

White - The loyaty of all Malaysians
Blue - The racial harmony amongst all Malaysians
Yellow - Represents the king
This year Merdeka song is as the theme..
Kini Semangat Jalan Seiring
Sehati Sejiwa
Bangun Membantu Agar Sepakat
Dalam Hidup Harmoni
Sirami Rasa Kasih Sayang
Jadi Benteng Hidup Yang Harmoni
Nurani IkhlasDihati Murni
Menjadi Kekuatan Kita
Bersatu…….Bersatu
Bersatu Gagah Bercerai Rebah
Hindarkan Hasrat Sengketa Kita
Perpaduan Teras Kejayaan
Berpadu……Berpadu
Berpadu Bulat Kata Sepakat
0 comments for this entry:
~:WeLcOmE:~
Bayangkan makhluk kupu-kupu yang lemah mampu merungkai balutan kepompongnya
dan menjelma sebagai ciptaan yang sempurna dan indah, walaupun anugerah Maha
Pencipta sekadar tubuh kecil dan kudrat terbatas semata-mata.
Begitulah umpamanya insan yang berdikari, cekal mengemudi haluan nasib tanpa
meminta belas simpati, walau betapa besar cabaran yang diharungi.
Walaupun kadangkala timbul rasa ragu dan rendah diri, namun bagai kupu-kupu
kita mampu terbang lebih tinggi, jika kita yakin dengan kemampuan daya usaha sendiri.
Selamat datang ke blog saya... Tinggalkanlah sekurang-kurangnya ucapan salam buat saya. Terima Kasih...
~:can reach me via dis email
wittyghost84@yahoo.com n also for my YM:~

~:MuTiArA HaTi:~
~~~~~~~~~~~~~~~~~~~~
~~~~~~~~~~~~~~~~~~~~
Copy & paste code below to your webpage. Click Ctrl + A & Ctrl + C ( Copy )




alt="wiwie's blog" />

~:ChAtBoX:~
Nak kawin x? cuba klik sini
MasKahwin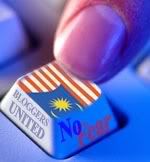 Archives

~:My BoOk's Shelf :~

~:DeAriE:~
Pre-Birthday Lunch at BLVD

8 months ago

Tips Kesihatan : Resdung oh Resdung

2 years ago

17 bulan...

6 years ago

~:MeMbErS:~