by Wiznie Marzuki on Tuesday, August 12, 2008, under me myself n i
Assalamu'alaikum wbt..

first of all, i wanna wish Happy 24th Birthday to my dear friend Rahah.. her birthdate is on 1st of August... and also to my friend Fais Hidayat that is on 8th August.. wishing both of u all the best in your life. may Allah bless u both! hehe.. well, my birthday also is around the corner.. i'm waiting and counting the day to come.. hehe~

on that day..080808.. we celebrate Fais birthday in shrdc...at our tea time break.. around 11am.. our classmate bought a cake.. 'banana choc' from secret recipe..erm... yummy! hehe.. pics will upload later...

so, for the last two days that is on 9August... i went to a wedding kenduri that was in Klang. here i want to wish.. Selamat Pengantin Baru to sisMas n broErwin... her akad was held at night, taking the date of 080808.. hehe. there's so many couple want to get married on this date.. including her.. well, i pray for your marriage will last long... hoping u both to be happy alwiz... congratulation again to my dear sisMas.. i know her since KKB in MawiFc... and now we moved to KBR in myfamily.com...she's a lovely sister that i've known here.. so nice n sweet... i love u sis.. i always pray for ur happiness..and do tkcare.

on the next day... i had promised my sisFify, that i will accompany her fiancee to her master convocation in UKM.. her convo was in the morning session.. Congratulation again sisFify for ur convocation! and thanx also, because of u.. i had my chance again to get in the DECTAR for the convocation.. now, i have the view as one of the guest in there.. and i feel good about it. well, i already had experience as one of the HR people who was in charge of taking care of the guest.. and also as a graduate person.. and i'm hoping that i can be one of the graduate student again through master... insyaAllah.. aminnn....


6 comments for this entry:
~:WeLcOmE:~
Bayangkan makhluk kupu-kupu yang lemah mampu merungkai balutan kepompongnya
dan menjelma sebagai ciptaan yang sempurna dan indah, walaupun anugerah Maha
Pencipta sekadar tubuh kecil dan kudrat terbatas semata-mata.
Begitulah umpamanya insan yang berdikari, cekal mengemudi haluan nasib tanpa
meminta belas simpati, walau betapa besar cabaran yang diharungi.
Walaupun kadangkala timbul rasa ragu dan rendah diri, namun bagai kupu-kupu
kita mampu terbang lebih tinggi, jika kita yakin dengan kemampuan daya usaha sendiri.
Selamat datang ke blog saya... Tinggalkanlah sekurang-kurangnya ucapan salam buat saya. Terima Kasih...
~:can reach me via dis email
wittyghost84@yahoo.com n also for my YM:~

~:MuTiArA HaTi:~
~~~~~~~~~~~~~~~~~~~~
~~~~~~~~~~~~~~~~~~~~
Copy & paste code below to your webpage. Click Ctrl + A & Ctrl + C ( Copy )




alt="wiwie's blog" />

~:ChAtBoX:~
Nak kawin x? cuba klik sini
MasKahwin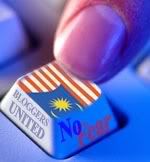 Archives

~:My BoOk's Shelf :~

~:DeAriE:~
Pre-Birthday Lunch at BLVD

7 months ago

Tips Kesihatan : Resdung oh Resdung

2 years ago

17 bulan...

6 years ago

~:MeMbErS:~