by Wiznie Marzuki on Tuesday, August 12, 2008, under friends
During last 2weeks, i met eina n ayit.. we hangout together.. since we didnt see each other for about a month i think.. so, we hv dinner first, chitchat... after that, we plan to go to BukitBintang but then, there's too many cars n of course people.. so, we decided to play bowling at the Flamingo.after finish throwing the ball... we went to NZ wangsamaju... hangout there until 2am.. then, went home. And, i drive! hehehe.. well, it was my first time driving while with them... because before this, its only eina who's driving... hehee~

to my dearest eina.. u know that we will always love you... support you... be strong! i know u can face it all... yes, i know that maybe i cant understand your feeling right now.. but then, as a friend.. i just want you to be happy.. i dont want to see you feeling sad, miserable or lose hope... there's a man out there for you... maybe he's just a bridge.. or someone along the path that u must meet.. in order to finally meet the person that HE promised is for you.. always pray to HIM... insyaAllah the day will come.. and he will come.. and you will know.. that's him.
:
friends

0 comments for this entry:
~:WeLcOmE:~
Bayangkan makhluk kupu-kupu yang lemah mampu merungkai balutan kepompongnya
dan menjelma sebagai ciptaan yang sempurna dan indah, walaupun anugerah Maha
Pencipta sekadar tubuh kecil dan kudrat terbatas semata-mata.
Begitulah umpamanya insan yang berdikari, cekal mengemudi haluan nasib tanpa
meminta belas simpati, walau betapa besar cabaran yang diharungi.
Walaupun kadangkala timbul rasa ragu dan rendah diri, namun bagai kupu-kupu
kita mampu terbang lebih tinggi, jika kita yakin dengan kemampuan daya usaha sendiri.
Selamat datang ke blog saya... Tinggalkanlah sekurang-kurangnya ucapan salam buat saya. Terima Kasih...
~:can reach me via dis email
wittyghost84@yahoo.com n also for my YM:~

~:MuTiArA HaTi:~
~~~~~~~~~~~~~~~~~~~~
~~~~~~~~~~~~~~~~~~~~
Copy & paste code below to your webpage. Click Ctrl + A & Ctrl + C ( Copy )




alt="wiwie's blog" />

~:ChAtBoX:~
Nak kawin x? cuba klik sini
MasKahwin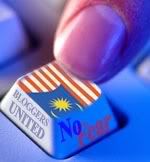 Archives

~:My BoOk's Shelf :~

~:DeAriE:~
Pre-Birthday Lunch at BLVD

8 months ago

Tips Kesihatan : Resdung oh Resdung

2 years ago

17 bulan...

6 years ago

~:MeMbErS:~