by Wiznie Marzuki on Saturday, October 25, 2008, under me myself n i
Assalamu'alaikum..

Its been a week since we had finished our training in SHRDC. Now, we are all in Dell Cyberjaya continuing on our job training here. So,we've been assigned to 6 different department that is, GDO, GDES, GISO, GSD, NOC and OSS. Me myself in GDES with Izan. Eventhough at first, we've been told that we're in Software Developer team, but this group still in the process to reach the development part.. so, now we're under sort of the database team.. there are 2 group in this dept, that is managing database tools n software quality assurance (SQA). And i'm in SQA team.
During our first week here, we've gone through our orientation programme for the first day, meet with our manager n also with the MD in Dell Malaysia. And then, we had our business presentation week. Its a really good experience in knowing new colleagues here, new working environment, new house in Equine.. hehe~ and here, we have our own buddy to guide us here. Actually most of my team member are in Penang and so does my buddy, he also in Penang. So, everyday if i have any curiosity question anything that i want to know more n if he can provide me answer, i'll just IM him during office hour.. Oh yes, i forgot that in here, i'm in normal working hour that is 8-5, monday- friday. There's also department that need us to be in shift, luckily i'm not in that dept.. but, if they give me a chance, why not right.. i can try working shift hours also.. no harm for trying.. hehe~
We were so happy n looking forward to do new things and gain much more knowledge that we can get while we are in here. Hopefully, we all can get hired. But, the most important thing is we must perform n give our best here. So, wish me n the rest of us... a very best of luck! InsyaAllah, aminnn..
5 comments for this entry:
~:WeLcOmE:~
Bayangkan makhluk kupu-kupu yang lemah mampu merungkai balutan kepompongnya
dan menjelma sebagai ciptaan yang sempurna dan indah, walaupun anugerah Maha
Pencipta sekadar tubuh kecil dan kudrat terbatas semata-mata.
Begitulah umpamanya insan yang berdikari, cekal mengemudi haluan nasib tanpa
meminta belas simpati, walau betapa besar cabaran yang diharungi.
Walaupun kadangkala timbul rasa ragu dan rendah diri, namun bagai kupu-kupu
kita mampu terbang lebih tinggi, jika kita yakin dengan kemampuan daya usaha sendiri.
Selamat datang ke blog saya... Tinggalkanlah sekurang-kurangnya ucapan salam buat saya. Terima Kasih...
~:can reach me via dis email
wittyghost84@yahoo.com n also for my YM:~

~:MuTiArA HaTi:~
~~~~~~~~~~~~~~~~~~~~
~~~~~~~~~~~~~~~~~~~~
Copy & paste code below to your webpage. Click Ctrl + A & Ctrl + C ( Copy )




alt="wiwie's blog" />

~:ChAtBoX:~
Nak kawin x? cuba klik sini
MasKahwin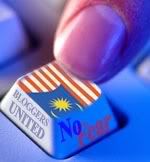 Archives

~:My BoOk's Shelf :~

~:DeAriE:~
Pre-Birthday Lunch at BLVD

8 months ago

Tips Kesihatan : Resdung oh Resdung

2 years ago

17 bulan...

6 years ago

~:MeMbErS:~