by Wiznie Marzuki on Sunday, November 09, 2008, under me myself n i
well, today is sunday.. n i just came back from my sister's room in UIA. i dont want to stay alone in KJ, so i came here for 2days.. the past 3days wed, thurs n friday.. i'm in equine... the reason why i'm not staying in my home in KJ is because my father went back to Kelantan. there's a 'tahlil' at my house. It's been 40 days after the accident. So, on the night before friday, we called on our relatives n the villagers to do the recitation of Al-Quran n tahlil for mylilsis.

Its been 40 days since i last saw u dik.. And we all really missed u so much.. Only God knows.. But,we know that ur going to be fine n happy there. To watch farah n the rest of my family became stronger day by day.. i really feel good. Syukur Alhamdulillah for the give of strength.. Ya Allah.
4 comments for this entry:
~:WeLcOmE:~
Bayangkan makhluk kupu-kupu yang lemah mampu merungkai balutan kepompongnya
dan menjelma sebagai ciptaan yang sempurna dan indah, walaupun anugerah Maha
Pencipta sekadar tubuh kecil dan kudrat terbatas semata-mata.
Begitulah umpamanya insan yang berdikari, cekal mengemudi haluan nasib tanpa
meminta belas simpati, walau betapa besar cabaran yang diharungi.
Walaupun kadangkala timbul rasa ragu dan rendah diri, namun bagai kupu-kupu
kita mampu terbang lebih tinggi, jika kita yakin dengan kemampuan daya usaha sendiri.
Selamat datang ke blog saya... Tinggalkanlah sekurang-kurangnya ucapan salam buat saya. Terima Kasih...
~:can reach me via dis email
wittyghost84@yahoo.com n also for my YM:~

~:MuTiArA HaTi:~
~~~~~~~~~~~~~~~~~~~~
~~~~~~~~~~~~~~~~~~~~
Copy & paste code below to your webpage. Click Ctrl + A & Ctrl + C ( Copy )




alt="wiwie's blog" />

~:ChAtBoX:~
Nak kawin x? cuba klik sini
MasKahwin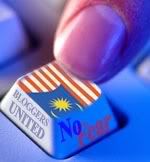 Archives

~:My BoOk's Shelf :~

~:DeAriE:~
Pre-Birthday Lunch at BLVD

7 months ago

Tips Kesihatan : Resdung oh Resdung

2 years ago

17 bulan...

6 years ago

~:MeMbErS:~