by Wiznie Marzuki on Tuesday, November 11, 2008, under me myself n i
so, yesterday i went on jogging... its been a while.. so, without proper warm up.. my legs hurt. hehehe~ so, i dunno whether tomorrow i'm going to play squash with them or go to bangi.. Just now, my dear fren Yan send me an sms, asking me wanna join or not to meet n watch on kakSyida's new born baby. so, i answered her let me think first, confirm it tomorrow.. so, i'm going to decide this tomorrow.. hehe~

and yesterday also, somehow while i'm doing on the testing, suddenly sumthin happen, i accidentaly switched on the testing environment with the real environment.. so, first thought came into my mind.. I'm dead! hehehe~ but,no worries.. i asked my buddy.. and after that settled! i managed to get it all back originally as it looks like before.. fuhhh!!! we both feel so relieved after that.. hehhe~ i hv to do it on my own, because he also didnt hv any access to do it, then we just wondering how come i got the access instead of him.. haiyyaaa! the developer ahh.. make we confused.. whatever it is.. back to normal.. thats good.

and today, i had good news.. our allowance have just bank in into our account.. but,pity me.. after all the responsibility that have been counted into my budget this month.. huhuhu~ i'm so sad... no wonder la my parents hv to work hard... n no matter how hard we works also..we never say enough when it comes to money...hehe~ so guys... jom ronggeng.. hahaha~ just kidding lorr..
5 comments for this entry:
~:WeLcOmE:~
Bayangkan makhluk kupu-kupu yang lemah mampu merungkai balutan kepompongnya
dan menjelma sebagai ciptaan yang sempurna dan indah, walaupun anugerah Maha
Pencipta sekadar tubuh kecil dan kudrat terbatas semata-mata.
Begitulah umpamanya insan yang berdikari, cekal mengemudi haluan nasib tanpa
meminta belas simpati, walau betapa besar cabaran yang diharungi.
Walaupun kadangkala timbul rasa ragu dan rendah diri, namun bagai kupu-kupu
kita mampu terbang lebih tinggi, jika kita yakin dengan kemampuan daya usaha sendiri.
Selamat datang ke blog saya... Tinggalkanlah sekurang-kurangnya ucapan salam buat saya. Terima Kasih...
~:can reach me via dis email
wittyghost84@yahoo.com n also for my YM:~

~:MuTiArA HaTi:~
~~~~~~~~~~~~~~~~~~~~
~~~~~~~~~~~~~~~~~~~~
Copy & paste code below to your webpage. Click Ctrl + A & Ctrl + C ( Copy )




alt="wiwie's blog" />

~:ChAtBoX:~
Nak kawin x? cuba klik sini
MasKahwin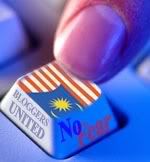 Archives

~:My BoOk's Shelf :~

~:DeAriE:~
Pre-Birthday Lunch at BLVD

8 months ago

Tips Kesihatan : Resdung oh Resdung

2 years ago

17 bulan...

6 years ago

~:MeMbErS:~