by Wiznie Marzuki on Thursday, December 04, 2008, under friends
Then, I had to prepare myself for the BBQ that night.. I left after maghrib and I know eina n ayit waited for me at the KgBaru LRT station. Around 9pm, I arrived at broAcid's house.. This BBQ session held at his house and also his generous neighbour house..thanx sis for letting us to stay in ur house that night.. it's really kind of you. What can I say about this BBQ session…Well, it's a really nice mini gathering here. I get to know all the people that only I chat with them in virtual into reality. But for the first time, even though I have been to this kind of gathering for many times, but this time I really feel the difference.. I feel so shamed like I just want to be invisible to them.. And I think I know what is the reason.. oh GOD! I don't like this feeling..it just like this will be my last meeting with fellow Ehozarians.. perghhh! Menyirap darah naik ke muka masa jalan dpn diorg semua.. xpenah2 rasa camtuh.. giler r! enough bout it!
Let me describes the event with the pictures.. well, pictures speaks louder don't they? Hehe~ here they are!
boyot, wie, eina, mars, jay, (dunno), suraya, s_bleeza,ayit, miss sya...
guys yg melepak kt luar.. after mkn2.. there's apect, ayam, lopaque n a few more..
:
friends

2 comments for this entry:
~:WeLcOmE:~
Bayangkan makhluk kupu-kupu yang lemah mampu merungkai balutan kepompongnya
dan menjelma sebagai ciptaan yang sempurna dan indah, walaupun anugerah Maha
Pencipta sekadar tubuh kecil dan kudrat terbatas semata-mata.
Begitulah umpamanya insan yang berdikari, cekal mengemudi haluan nasib tanpa
meminta belas simpati, walau betapa besar cabaran yang diharungi.
Walaupun kadangkala timbul rasa ragu dan rendah diri, namun bagai kupu-kupu
kita mampu terbang lebih tinggi, jika kita yakin dengan kemampuan daya usaha sendiri.
Selamat datang ke blog saya... Tinggalkanlah sekurang-kurangnya ucapan salam buat saya. Terima Kasih...
~:can reach me via dis email
wittyghost84@yahoo.com n also for my YM:~

~:MuTiArA HaTi:~
~~~~~~~~~~~~~~~~~~~~
~~~~~~~~~~~~~~~~~~~~
Copy & paste code below to your webpage. Click Ctrl + A & Ctrl + C ( Copy )




alt="wiwie's blog" />

~:ChAtBoX:~
Nak kawin x? cuba klik sini
MasKahwin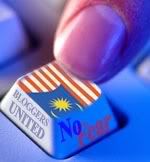 Archives

~:My BoOk's Shelf :~

~:DeAriE:~
Pre-Birthday Lunch at BLVD

6 months ago

Tips Kesihatan : Resdung oh Resdung

1 year ago

17 bulan...

6 years ago

~:MeMbErS:~