by Wiznie Marzuki on Sunday, December 07, 2008, under friends
Yesterday's night, after we all.. i mean.. me, ayit, broAcid, Ejoy, Lan and Barbooshka enjoying our meeting at Tesco near Ikea Damansara.. then, lepak at BigApple theCurve.. after that, they decided to go to BroAcid's house to play the board games.. that is Monopoly and Risk.. After maghrib, went to his house... we had our chat, had our dinner.. (nasi lemak antarabangsa) tq broAcid..hehe~ they watch EuroTrip movie, as Ejoy soon wanna go to Europe Tour by himself as backpackers for about 1month by May/June next year.. great isnt it! Wish him the best!
Well, around 930pm start our game with the Risk.. and the winner is Barbooshka, since she was a sifu to us, so she has the advantages of knowing and planning the strategy to win over and complete her mission.. Congrats! and the first who lose is broAcid.. because all of his region had been conquered by Barbooshka already. hahaha~
if u afraid of taking theRISK, dun play this game.. hahaha~

we have a mission to accomplish.. chaiyo!

the game started..
the generals are : ejoy, barbooshka, acid, lan n me..





me n ayit.. she cum the PBB, giving out ideas on how to conquer and attack the region.. haha~
Ejoy (red) and Barbooshka (blue) trying to demolish Acid (yellow) from theRISK.. haha~
now u can see...

now u dont.. wahahahaha~ pity on u, general Acid.. ;p gone already!
Then, we continue with Monopoly.. This one, is quite easy because it is quite the same with Saidina, the Millionaire etc... So, the winner for this game is Ejoy, he is the Millionaire of the Game.. He won 105.23 million! His strategy of buying hotels and his luck also on that night had made us bankrupt.. waaa~ the first who lose is Barbooshka with 2nd time of having to pay 9.5mil to Ejoy.. and 2nd who lose is me.. 2time have to pay 9.5mil to Ejoy and what make me lose is i have to pay him 10mil next.. waaaa~and the 3rd who lose is broAcid.. waaahh, we all are so... i can say survival lah.. hehe~ good strategy and good luck of Ejoy.. i guarantee u wont have the luck twice.. hahaha~ envy you lah that night.. always busy of counting money... cesss~ haha~ juz kidding.. anyway, we finish our game bout 3am.. and after that Ejoy send us home.. thanx Ejoy, really appreciate ur help..
the players are : Ejoy, Barbooshka, Acid n me..


the game started.. hehe~
the 1st who lose..
2nd who lose.. is me.. waaaa~ hate it!

3rd who lose.. at least.. pay back time eh? heee~

here's the winner.. with 105.21mil of wealth.. so lucky la u that night..

the trophy for winner of Monopoly..Ejoy!

Overall, i'm so happy.. i had fun.. knowing u all in Ehoza is fun to me.. thanx guys! next time, i''ll think of good strategy for both games and i'm going to win! hahaha~ til then.. daaa~ i'll upload pics later... thanx to Ejoy for all the photo taken on that night.
:
friends

2 comments for this entry:
~:WeLcOmE:~
Bayangkan makhluk kupu-kupu yang lemah mampu merungkai balutan kepompongnya
dan menjelma sebagai ciptaan yang sempurna dan indah, walaupun anugerah Maha
Pencipta sekadar tubuh kecil dan kudrat terbatas semata-mata.
Begitulah umpamanya insan yang berdikari, cekal mengemudi haluan nasib tanpa
meminta belas simpati, walau betapa besar cabaran yang diharungi.
Walaupun kadangkala timbul rasa ragu dan rendah diri, namun bagai kupu-kupu
kita mampu terbang lebih tinggi, jika kita yakin dengan kemampuan daya usaha sendiri.
Selamat datang ke blog saya... Tinggalkanlah sekurang-kurangnya ucapan salam buat saya. Terima Kasih...
~:can reach me via dis email
wittyghost84@yahoo.com n also for my YM:~

~:MuTiArA HaTi:~
~~~~~~~~~~~~~~~~~~~~
~~~~~~~~~~~~~~~~~~~~
Copy & paste code below to your webpage. Click Ctrl + A & Ctrl + C ( Copy )




alt="wiwie's blog" />

~:ChAtBoX:~
Nak kawin x? cuba klik sini
MasKahwin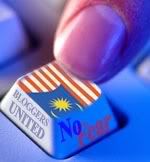 Archives

~:My BoOk's Shelf :~

~:DeAriE:~
Pre-Birthday Lunch at BLVD

6 months ago

Tips Kesihatan : Resdung oh Resdung

1 year ago

17 bulan...

6 years ago

~:MeMbErS:~