by Wiznie Marzuki on Wednesday, December 17, 2008, under friends

12dis08 - Actually on this date, i do have something to do, i registered for a Charity Carwash in Jln KlangLama,but since the night before i found out that i dun have transport to go there, so i sms Andy (guy from AMBP) tell him that i cant make it, but i'll come on Sunday and will bring along Eina with me.As Ayit cant join either Sat/Sun, because she has to go to Melaka on Sunday morning.

So, on saturday i just lepaking, hangin n chatting with my family at home.. watching tv and so on.. but on that night, i already promised and confirmed with Eina that i'll join her to Ehozarians badminton game held in Ampang.it started at 8pm and finished at 10pm, they booked 2courts. how many players? sorry, didnt count. hehe~ but, i'm not playing the game.. i'm just hangin around, meet new members.. Erm,after the game some of us went straight to broAcid's house.. he n Kahar served dinner for us.thanx bro! it was delicious.. dun worry, i dun tell lies. haha~ anyway, i have spaghetti that night. and as usual, the chef is broKahar. tell the truth, i never had enough of his spaghetti.. and yet, i forgot that i still not taken down his recipe post in Ehoza..hehe~ i'll later.but, i think that i'm going to merge it with my recipe.. dun get mad eh bro.. no heart feeling here..i know that ur recipe is tasty enough, but i just wanna try something new. hehe~ enough bout it. after had our dinner and chat with members who were there.. we just dun want to take more of sya's time because me n eina knew that she dun like hangin out too late at night.so, we ( me, eina n sya) went back at 1130pm.
:
friends

0 comments for this entry:
~:WeLcOmE:~
Bayangkan makhluk kupu-kupu yang lemah mampu merungkai balutan kepompongnya
dan menjelma sebagai ciptaan yang sempurna dan indah, walaupun anugerah Maha
Pencipta sekadar tubuh kecil dan kudrat terbatas semata-mata.
Begitulah umpamanya insan yang berdikari, cekal mengemudi haluan nasib tanpa
meminta belas simpati, walau betapa besar cabaran yang diharungi.
Walaupun kadangkala timbul rasa ragu dan rendah diri, namun bagai kupu-kupu
kita mampu terbang lebih tinggi, jika kita yakin dengan kemampuan daya usaha sendiri.
Selamat datang ke blog saya... Tinggalkanlah sekurang-kurangnya ucapan salam buat saya. Terima Kasih...
~:can reach me via dis email
wittyghost84@yahoo.com n also for my YM:~

~:MuTiArA HaTi:~
~~~~~~~~~~~~~~~~~~~~
~~~~~~~~~~~~~~~~~~~~
Copy & paste code below to your webpage. Click Ctrl + A & Ctrl + C ( Copy )




alt="wiwie's blog" />

~:ChAtBoX:~
Nak kawin x? cuba klik sini
MasKahwin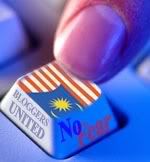 Archives

~:My BoOk's Shelf :~

~:DeAriE:~
Pre-Birthday Lunch at BLVD

6 months ago

Tips Kesihatan : Resdung oh Resdung

1 year ago

17 bulan...

6 years ago

~:MeMbErS:~