by Wiznie Marzuki on Tuesday, December 23, 2008, under movies
16dis08 - after finished my works, went sraight to Summit.. and finally, i watched TWILIGHT.. pergghh, cant tell that i feel so relieved... its been several weeks that i've waited for this moment... the movie is great.. i really loved to watch vampires movie n stuff like wolves, etc... next year, gonna watch Underworld (rise of the lycans).. so, i've watched Blood n Choc before.. n my friends said that Twilight is better than BnC.. thats why, i wanna watch this movie so much. i found that the character of this film is good.. new things i can see, in terms of vampires shines like diamonds in direct sunshine..most of it.. i loved Edward's eyes.he has sexy and sultry eyes.. fall in love again.. aaahhhh, feel good right girls? hahaha~ actually, mylilbro already bought the novel of this movie.. but, i'm not aware of it.. so, after this sure i'll read it.. and as mylovely sis Aya also just download all of the sequel novel for this movie.. hehe~ of course,i wont miss it!well, there's no regret of watching it alone, as i dun mind it at all.. and there's no regret of watching it so late. it'll end soon in the cinemas.. and there's no regret for waiting and planning on the time to watch it.. last but not least, worth it!i gv 4.5/5 stars to this movie.. God, i still cant forget his eyes.. so beautiful.. hahaha~ cut it out wie!
:
movies

2 comments for this entry:
~:WeLcOmE:~
Bayangkan makhluk kupu-kupu yang lemah mampu merungkai balutan kepompongnya
dan menjelma sebagai ciptaan yang sempurna dan indah, walaupun anugerah Maha
Pencipta sekadar tubuh kecil dan kudrat terbatas semata-mata.
Begitulah umpamanya insan yang berdikari, cekal mengemudi haluan nasib tanpa
meminta belas simpati, walau betapa besar cabaran yang diharungi.
Walaupun kadangkala timbul rasa ragu dan rendah diri, namun bagai kupu-kupu
kita mampu terbang lebih tinggi, jika kita yakin dengan kemampuan daya usaha sendiri.
Selamat datang ke blog saya... Tinggalkanlah sekurang-kurangnya ucapan salam buat saya. Terima Kasih...
~:can reach me via dis email
wittyghost84@yahoo.com n also for my YM:~

~:MuTiArA HaTi:~
~~~~~~~~~~~~~~~~~~~~
~~~~~~~~~~~~~~~~~~~~
Copy & paste code below to your webpage. Click Ctrl + A & Ctrl + C ( Copy )




alt="wiwie's blog" />

~:ChAtBoX:~
Nak kawin x? cuba klik sini
MasKahwin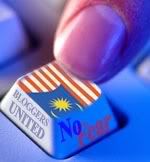 Archives

~:My BoOk's Shelf :~

~:DeAriE:~
Pre-Birthday Lunch at BLVD

7 months ago

Tips Kesihatan : Resdung oh Resdung

2 years ago

17 bulan...

6 years ago

~:MeMbErS:~