by Wiznie Marzuki on Wednesday, December 24, 2008, under me myself n i
On 17dis08- we had our christmas carol and presents in Dell.. at our lunch time,we have to go to the canteen and get the number in order to get our present..so, i got num 539... and i queue.. its a long queue men... bcoz i saw at the table,they wrote down there.. surname that starts with 'M' queue here.. but, when i already at front..u know what?? i hv to queue again, bcoz for the Apprentice, they group us by our own name..so, i have to queue again...n then.. found out that.. i have to draw another num as my num now has no gift.. so, i get out from the line.. n draw a num.. now, i got '377'.. wahhh, i think its my luck.. i love the combination, bcoz its someone's hp num.. hahaha~ again, i queue and i have my gift in my hand... guess what i got for my first christmas gift?? tadaaa~ in the pic.. green mug from Ikea.. hehe~ then, we heard the carol from the group and also from our GM, Bobbi Dangerfield.. Good to have her here. she is so nice and smart.. and, after that we have our lunch there also.
this is my 1st gift..
christmas carol.. and the one with no hat is our GM..
EanEan trying her luck in the bowl with kakLinda... hehe~
On 18dis08- my team n also other teams.. they organized exchange gifts event. and we just joined n have some fun together.i help to collect all the gifts n put number on each of it. and, this time.. i dunno la.. i draw number, and i got my team member's gift, Yong.. and same as him.. he got my gift.. so, we both just like exchange gift between us only. hahaha~ well, for this 2nd christmas present, i got a cute lil turtle, its for placing my Hp in it. hehe~ thanx Yong. and for my gift,eventhough i juz bought it the night before.. hehe~ in rush.. but, i do hope that u'll like it. after we all got our gifts.. of course lah its makan time.. hehe~ and, here some pics to make u clear.. enjoy!

this is my 2nd gift.. from Yong. thanx!
pathma, me n kakAsna.. preparing foods for all...
boleh wat iklan twisties neh.. hahaha~
all the gifts... on the couch.. waiting to be taken... hehehe~


me n kakAsna.. with candy sticks for all.. mine is Choc flavor..

see.. Yong with my gift, n me with his gift.. hehe~
with my Cyber team members...
with our present.. hehe~

0 comments for this entry:
~:WeLcOmE:~
Bayangkan makhluk kupu-kupu yang lemah mampu merungkai balutan kepompongnya
dan menjelma sebagai ciptaan yang sempurna dan indah, walaupun anugerah Maha
Pencipta sekadar tubuh kecil dan kudrat terbatas semata-mata.
Begitulah umpamanya insan yang berdikari, cekal mengemudi haluan nasib tanpa
meminta belas simpati, walau betapa besar cabaran yang diharungi.
Walaupun kadangkala timbul rasa ragu dan rendah diri, namun bagai kupu-kupu
kita mampu terbang lebih tinggi, jika kita yakin dengan kemampuan daya usaha sendiri.
Selamat datang ke blog saya... Tinggalkanlah sekurang-kurangnya ucapan salam buat saya. Terima Kasih...
~:can reach me via dis email
wittyghost84@yahoo.com n also for my YM:~

~:MuTiArA HaTi:~
~~~~~~~~~~~~~~~~~~~~
~~~~~~~~~~~~~~~~~~~~
Copy & paste code below to your webpage. Click Ctrl + A & Ctrl + C ( Copy )




alt="wiwie's blog" />

~:ChAtBoX:~
Nak kawin x? cuba klik sini
MasKahwin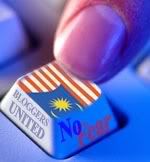 Archives

~:My BoOk's Shelf :~

~:DeAriE:~
Pre-Birthday Lunch at BLVD

7 months ago

Tips Kesihatan : Resdung oh Resdung

2 years ago

17 bulan...

6 years ago

~:MeMbErS:~