by Wiznie Marzuki on Monday, March 30, 2009, under friends
29Mac09- at 1pm.. wie gerak drp umah KJ, g giant dulu.. sbb eina call suh beli gift wrapper.. ok..pastu terus gerak ke umah eina.. ayit dh mmg tido sana pun... upenyer diorg ber2 neh meronggeng smlm.. ces ces cesss...xsuke xsuke xsuke... :p smpi jek umah eina neh.. diorg upenye xsiap lg.. sabar je la.. cbuk duk online lg.. apa lg kalu x, Ehoza la.. hahaha. pastu, duk tgu diorg bersiap satu hal.. dah kul2lebih br gerak.. nak sampai ke puncak alam tuh.. kul3lebih br smpi.. jumpe parents zureen, makan jap.. pastu, amik gambar jap.. dlm kul4kitorg gerak.. bukan balik umah thauu.. tp, singgah plak.. tgk adik kitorg yg sorg tuh d UiTM Puncak Perdana.. Reza a.k.a Bulat.. hikss.. apelah adik sorg neh.. byk benar gambar cari makan yer.. wakakakaka~ sabar je la.. kitorg pun ape kurang.. adeihh.. enjoy the pics..
to Zureen n Megat... Selamat Pengantin baru,
semoga kekal bahagia selamanya.. insyaAllah.. aminnn...
:
friends

4 comments for this entry:
~:WeLcOmE:~
Bayangkan makhluk kupu-kupu yang lemah mampu merungkai balutan kepompongnya
dan menjelma sebagai ciptaan yang sempurna dan indah, walaupun anugerah Maha
Pencipta sekadar tubuh kecil dan kudrat terbatas semata-mata.
Begitulah umpamanya insan yang berdikari, cekal mengemudi haluan nasib tanpa
meminta belas simpati, walau betapa besar cabaran yang diharungi.
Walaupun kadangkala timbul rasa ragu dan rendah diri, namun bagai kupu-kupu
kita mampu terbang lebih tinggi, jika kita yakin dengan kemampuan daya usaha sendiri.
Selamat datang ke blog saya... Tinggalkanlah sekurang-kurangnya ucapan salam buat saya. Terima Kasih...
~:can reach me via dis email
wittyghost84@yahoo.com n also for my YM:~

~:MuTiArA HaTi:~
~~~~~~~~~~~~~~~~~~~~
~~~~~~~~~~~~~~~~~~~~
Copy & paste code below to your webpage. Click Ctrl + A & Ctrl + C ( Copy )




alt="wiwie's blog" />

~:ChAtBoX:~
Nak kawin x? cuba klik sini
MasKahwin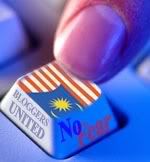 Archives

~:My BoOk's Shelf :~

~:DeAriE:~
Pre-Birthday Lunch at BLVD

7 months ago

Tips Kesihatan : Resdung oh Resdung

2 years ago

17 bulan...

6 years ago

~:MeMbErS:~