by Wiznie Marzuki on Thursday, March 26, 2009, under tag
Salam uols..

Sekali lagi, wie ngader2 nak siapkan TAG oleh lynda a.k.a dsi9n3r21 Ehoza. hehe. but this time, its different. so, check it out eh..
THE RULES:
1. Snap or just shift through the photo gallery and pick 3pics of yours which you think are sexy.
2. Don't have to be revealing (though some people say SEXY IS SKIN), explain why you think so.
3. Tag 3 friends (whom you think are sexy).
gambar ini diambil ketika muda ye.. seksinye dimana?
korang tanya lagi..? senyuman + pose mahal neh..


biasalah kan.. lepas bangun tidur.. mestila seksi khann...
harap maklum ye, pada pandangan sesetengah pihak waktu mengandung adalah waktu dimana tubuh wanita menjadi semakin seksi..
so, tayahlah wie nk btau mana seksinye khannn..
korang pun bley fikir sendiri kan.. hiksss..
huakakakakaka.... dah gelak guling2 neh.. perasan angelina jolie yang tak tahan tuhhh... adeihh, sory ye lynda.. not following the rules.. hikss.. saje je suka2 neh.. nak tag balik org ke? malas lah plakss.. kt bawah neh pun wie dah tag ramai orang.. sape jek yg dah buat pun.. kakFy n kakNurul.. thanx to both of u. yg lain harap menyusul ye.. saje je suka2.tanak pun tappe..hehehe~ anyway, pekata sape yg bace entry neh.. dan cakap wie perasan xhengat.. anda diTAG yer.. wakakakaka~ aku mmg tadet keje.. lantak lah... :p


:
tag

2 comments for this entry:
~:WeLcOmE:~
Bayangkan makhluk kupu-kupu yang lemah mampu merungkai balutan kepompongnya
dan menjelma sebagai ciptaan yang sempurna dan indah, walaupun anugerah Maha
Pencipta sekadar tubuh kecil dan kudrat terbatas semata-mata.
Begitulah umpamanya insan yang berdikari, cekal mengemudi haluan nasib tanpa
meminta belas simpati, walau betapa besar cabaran yang diharungi.
Walaupun kadangkala timbul rasa ragu dan rendah diri, namun bagai kupu-kupu
kita mampu terbang lebih tinggi, jika kita yakin dengan kemampuan daya usaha sendiri.
Selamat datang ke blog saya... Tinggalkanlah sekurang-kurangnya ucapan salam buat saya. Terima Kasih...
~:can reach me via dis email
wittyghost84@yahoo.com n also for my YM:~

~:MuTiArA HaTi:~
~~~~~~~~~~~~~~~~~~~~
~~~~~~~~~~~~~~~~~~~~
Copy & paste code below to your webpage. Click Ctrl + A & Ctrl + C ( Copy )




alt="wiwie's blog" />

~:ChAtBoX:~
Nak kawin x? cuba klik sini
MasKahwin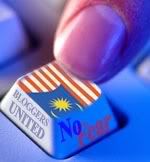 Archives

~:My BoOk's Shelf :~

~:DeAriE:~
Pre-Birthday Lunch at BLVD

6 months ago

Tips Kesihatan : Resdung oh Resdung

1 year ago

17 bulan...

6 years ago

~:MeMbErS:~