by Wiznie Marzuki on Tuesday, March 31, 2009, under tag
ish ishhh.. kakak ku sorg ini.. tag kite balik laks eh.. :p yerlah yerlah.. wie buat neh.. bley jek sape2 kan.. no hal.. hehehe ;) ok, here we go..
1. He's sitting in front of the TV, what is on the screen?
Dia suke sgt tgk bola.. ape2 je la kaitan ngan bola sepak.. dia layann jekk...
2. You're out to eat, what kind of dressing does he get on his salad?
sambal belacan... dikira jugak sbg dressing ke? ekekekee~ layannnn ajerrr..
3. What's one food he doesn't like?
ape la yg dia tolak.. dia layan semua la.. hehehe~
4. You go out to eat and have a drink. What does he order?
minuman jek ker? ermm.. dia suka teh ais.. mcm saya suke la.. ahaksss~ *wink*
5. Where did he go to high school?
sek men agama diniah.. kt Baling.. heee~
6. What size shoe does he wear?
43 kot.. hehehe.. tp, dia xsuke pakai stokin.. mcm2 lah dia neh..hehehe..
(mmg soal siasat btul neh.. ekekekkee~)
7. If he was to collect anything, what would it be?
erm.. dia suke kumpul matawang seluruh dunia.. xkesahla syiling or kertas.. kan kannn..
lg satu, dia suke kumpul buku2 khususnya kitab2 arab.. patutler suka sgt g pameran kitab ye..hehehe..
8. What is his favorite type of sandwich?
dia suke telur hancur dgn mayonis... hiksss... feveret sama neh.. lalalalaaaa~
9. What would this person eat every day if he could?
kalu boleh ye.. ermm, kalu boleh dia nak makan masakan kampung cthnye ayam masak lemak, dia mmg suke.. dia da lama xbalik mesia.. sbb tu lah rindu sesangat neh.. sabo eh.. nnt balik, mkn puas2 ye.. hehehe..
10. What is his favorite cereal?
cereal? alamak.. dia neh jenis makan jek ape2pun.. so, kalu cereal neh.. dia kata ape yg feveret wie jd feveret dia.. so.. koko crunch la.. hehehe... *wink*
11. What would he never wear?
dia xkan pakai baju pompuan lah... hahahaa~ itu kan HARAM.. mestilah Never Wear... ahahahaha~ :p alahai, dia mcm lelaki bese jek.. xsuke pakai baju yg kaler terang2 sgt.. biasa2 suda..
12. What is his favorite sports team?
banyak jugak dia suke... liverpool, chelsea, avilla, barca.. tp, most dia suke Barca.. bola jek ingatnyer yer... aihhh...
dia mane ade vote sape2... kalu dia nak vote.. dia ckp dia vote wie.. ahahahaha~ dia neh mmg lawak la.. hehehe.. awk neh mmg mcm2 tul la.. :p
14. Who is his best friend?
kalu kt sana.. bestfren dia shaufiq.. kt dlm internet neh.. yg guna ym id wittyghost84.. :p dia yg ckp tauuu.. hikss.. sabo je la..
15. What is something you do that he wishes you wouldn't do?
adoiyaiiii... dia xsuke wie pakai jeans.. dia suke tgk wie pakai baju kurung n specially wutever in pink.. sabo je la.. warna yg xpenah2 wie beli bajunyer.. tp, org suke sgt bg baju kaler neh kt wie.. hahahaa~ so, ape2 baju yg korg nmpk wie pakai kaler pink tuh, sememangnye baju yg org bg jek semenyer... ekekekeke~ so, nnt awk kena bg kt saya lah ye baju kaler neh.. awk kan suke tgk... :p tp, yg nk wie ubah xpakai jeans tuh agak susah.. tp, tappe.. wie dlm proses perubahan.. insyaAllah.. perlahan2 kan.. aminnn.. :) timekasih ye..
16. What is his heritage?
heritage? ermm.. kalu dah berjauhan neh.. sememangnye dia akan jaga tatatertib dan adab sopan.. maruah negara kite Mesia di sana lah...hehe~ mjawab soklan x neh? gasakla... ekekekekee~
17. What is his favourite colour?
dia suke hijau.. n dia suke tgk pompuan pakai pink.. sbb terserlah kelembutan.. hiksss.. ade2 jerr lah..
dia sgt suka duk bersila.. so, even makan duk kt kerusi pun nk bsila lagi.. hehe..
dia bangga dilahirkan di kampung.. dapat didikan agama wpun xseberapa.. dia mmg suke sgt blaja agama.. Alhamdulillah.. :)
20. Who he loves the most?
atas dunia neh, mestilah jawapannye makayah dia.. hehehe.. bagus2.. *wink*
nnt kalu lepas kawin pun, sayang mak ayah lg yer... jgn sayang isteri jek... :p
okiess.. wie dah berjaya menjawab soklan TAG.. timekasih ye Shid kerana sudi menjawab soalan sesi temuramah... balik Mesia jgn lupa btau yerr... eheh.. :p
erm, nak TAG lg ke? cani la yer.. wie nk TAG org2 yg ade "si dia" je la yer.. tayah ramai2.. 4org neh jer..
1. Syila UKM ( ade yg spesel kan.. hehee)
2. Fitriyah UKM (bakal pengantin kann.. patut tau la kan..hehehe)
3. Amira Ainul CPort ( bakal btunang minggu neh kan.. so, patut tau jugak la kan..heee)
4. Lynda Ehoza ( cerita la pasal ur bf eh.. hee *wink* )
inipun, kalu korang seme sudi membuatnyer ok.. xde paksaan pun.. saje suke2 jek.. Time kasih yer.. :)

:
tag

7 comments for this entry:
~:WeLcOmE:~
Bayangkan makhluk kupu-kupu yang lemah mampu merungkai balutan kepompongnya
dan menjelma sebagai ciptaan yang sempurna dan indah, walaupun anugerah Maha
Pencipta sekadar tubuh kecil dan kudrat terbatas semata-mata.
Begitulah umpamanya insan yang berdikari, cekal mengemudi haluan nasib tanpa
meminta belas simpati, walau betapa besar cabaran yang diharungi.
Walaupun kadangkala timbul rasa ragu dan rendah diri, namun bagai kupu-kupu
kita mampu terbang lebih tinggi, jika kita yakin dengan kemampuan daya usaha sendiri.
Selamat datang ke blog saya... Tinggalkanlah sekurang-kurangnya ucapan salam buat saya. Terima Kasih...
~:can reach me via dis email
wittyghost84@yahoo.com n also for my YM:~

~:MuTiArA HaTi:~
~~~~~~~~~~~~~~~~~~~~
~~~~~~~~~~~~~~~~~~~~
Copy & paste code below to your webpage. Click Ctrl + A & Ctrl + C ( Copy )




alt="wiwie's blog" />

~:ChAtBoX:~
Nak kawin x? cuba klik sini
MasKahwin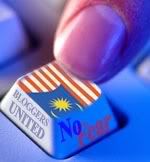 Archives

~:My BoOk's Shelf :~

~:DeAriE:~
Pre-Birthday Lunch at BLVD

8 months ago

Tips Kesihatan : Resdung oh Resdung

2 years ago

17 bulan...

6 years ago

~:MeMbErS:~