by Wiznie Marzuki on Friday, April 10, 2009, under friends
starting from tomorrow morning 11apr09 until 14apr09.. we ( ayit, eina, wie n adib) are going to have the Utara edition for our Malaysia Tour 09.. insyaAllah, hopefully it'll be successful as we planned. there is so many place that we would like to visit. but, we only go to certain places that we found it interesting to stop by.
there are so many obstacles that ayit eina n adib going through. but they manage to overcome all the problems. its so great. Thank you and congratulation to them. is it to early for me to say this? but i think its ok, its just the beginning for us and i wanna give them a lil appreciation on what they have done for this tour. so, thats all for now. i'll update it as soon as i come back to KL nextweek.. or perhaps during the tour also, i'll update our journey here. heheheh.. no plan at all.. thanx ya!
:
friends

2 comments for this entry:
~:WeLcOmE:~
Bayangkan makhluk kupu-kupu yang lemah mampu merungkai balutan kepompongnya
dan menjelma sebagai ciptaan yang sempurna dan indah, walaupun anugerah Maha
Pencipta sekadar tubuh kecil dan kudrat terbatas semata-mata.
Begitulah umpamanya insan yang berdikari, cekal mengemudi haluan nasib tanpa
meminta belas simpati, walau betapa besar cabaran yang diharungi.
Walaupun kadangkala timbul rasa ragu dan rendah diri, namun bagai kupu-kupu
kita mampu terbang lebih tinggi, jika kita yakin dengan kemampuan daya usaha sendiri.
Selamat datang ke blog saya... Tinggalkanlah sekurang-kurangnya ucapan salam buat saya. Terima Kasih...
~:can reach me via dis email
wittyghost84@yahoo.com n also for my YM:~

~:MuTiArA HaTi:~
~~~~~~~~~~~~~~~~~~~~
~~~~~~~~~~~~~~~~~~~~
Copy & paste code below to your webpage. Click Ctrl + A & Ctrl + C ( Copy )




alt="wiwie's blog" />

~:ChAtBoX:~
Nak kawin x? cuba klik sini
MasKahwin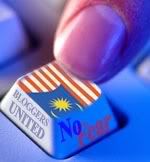 Archives

~:My BoOk's Shelf :~

~:DeAriE:~
Pre-Birthday Lunch at BLVD

6 months ago

Tips Kesihatan : Resdung oh Resdung

1 year ago

17 bulan...

6 years ago

~:MeMbErS:~