by Wiznie Marzuki on Wednesday, June 17, 2009, under tag
Budak yang bernama socrates itu tak habis2 lagi dengan tag nye. kini, wie telah di'tag' kembali oleh socrates. baiklah, disebabkan oleh tag ini merupakan tag award. maka, wie dengan relahati dan teramat sukasuki nye akan melaksanakan tag daripada budak yang comel ini. haha~ :p
1. Put this badge in your awesome blog.
2. Award this badge to 10 bloggers whom you think are inspirational and friendly.
3. Make sure you put the 'recipients' names here, along with their links.
4. Let them know about this.
no 2. I want to award this awesome badge to my fellow friends that is
~
ayit
( mydear SSF sista- cik eina dh dpt, mls nk bg.. haha.. ini utk ayit)
~
kakFify
( my dearie ex-housemate - sis, miss u so much! hehe.. thanx for everything *wink*)
~
lynda
( my cute lil friend.. hehe~ love to read bout ur movie entry)
~
syila UKM
( my U friend.. good luck in everything ok.. soklusa kawin, jemput eh..hehe)
~
kakNurul
( my dear ex-housemate - sis, bile la i nk jupe u ye.. rindu la..huhu.. tkcare ok)
~
kakSyida
( my dear ex-housemate - sis, kirim bunga sakura la kt u eh..haha. tkcare. kirim xoxo to mimi ok. hehe )
~
Fizah Bari
( my ex-classmate in primary - goodluck in ur cupcake biz..so comel.. i'm sure it is sweet as u..hehe)
~
Abrar cuakteam
( my blog friend - lama xdgr citer.. hope everything went well with ur study. best of luck! )
~
Aliaman
( just met him.. so funny and a good guy, of course.. thanx n do tkcare of ur mother well, ok.. )
~ everyone who thinks he / she deserve this badge.. including you who are reading this entry.
no 3. names are there.. their link, u have to click on their names. ok.
no 4. ok, i'll let them know.. asap. lalalalaaaa~
so, thats all for the award tag. thank you again to socrates and goodluck to all the receiver of this award. hehe~ u deserve it ok! daaaa~
:
tag

8 comments for this entry:
~:WeLcOmE:~
Bayangkan makhluk kupu-kupu yang lemah mampu merungkai balutan kepompongnya
dan menjelma sebagai ciptaan yang sempurna dan indah, walaupun anugerah Maha
Pencipta sekadar tubuh kecil dan kudrat terbatas semata-mata.
Begitulah umpamanya insan yang berdikari, cekal mengemudi haluan nasib tanpa
meminta belas simpati, walau betapa besar cabaran yang diharungi.
Walaupun kadangkala timbul rasa ragu dan rendah diri, namun bagai kupu-kupu
kita mampu terbang lebih tinggi, jika kita yakin dengan kemampuan daya usaha sendiri.
Selamat datang ke blog saya... Tinggalkanlah sekurang-kurangnya ucapan salam buat saya. Terima Kasih...
~:can reach me via dis email
wittyghost84@yahoo.com n also for my YM:~

~:MuTiArA HaTi:~
~~~~~~~~~~~~~~~~~~~~
~~~~~~~~~~~~~~~~~~~~
Copy & paste code below to your webpage. Click Ctrl + A & Ctrl + C ( Copy )




alt="wiwie's blog" />

~:ChAtBoX:~
Nak kawin x? cuba klik sini
MasKahwin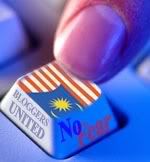 Archives

~:My BoOk's Shelf :~

~:DeAriE:~
Pre-Birthday Lunch at BLVD

7 months ago

Tips Kesihatan : Resdung oh Resdung

2 years ago

17 bulan...

6 years ago

~:MeMbErS:~