by Wiznie Marzuki on Wednesday, August 25, 2010,


1. Thank and link the person that tagged you
Terima kasih Kimmy (yang kini bergelar mummy utk dua orang cahaya mata yg comel2)

2. Tag 15 bloggers you've recently discovered and think fantastic
15 je? sikit sangat la.. hehe~ sebenarnya semua bloggers kat sini yang merangkap kawan-kawan saya merupakan orang yang hebat-hebat belaka.. hehe~ :D

3. Contact that blogs and let them know they've been tagged
well, all my friends here yang rajin2 nak buat.. saya tag anda.. mekasih :)

4. State 7 things about yourself

tujuh?? ermm.. apa nak cakap ye.. pasal diri sendiri.. tak reti sebenarnya..
saya adalah seorang yang...
i) simple..
ii) xberapa kuat menghadapi dugaan. tapi, saya cuba..
iii) selalu blur jek.. haha~ :p
iv) sukakan suasana tepi pantai.. ( bila nak pergi bercuti lagi neh.. haihh.. )
v) sedang mencari jodoh? erkkk. hahaha.. gurau2.. :p jodoh saya dah ada.. tapi, saya malas mencari, biar dia jela yang mencari.. ekekkeke~ :p
vi) sedang mengenali potensi diri..dari dulu sampai sekarang xabis2 lagi.. <---masalah betul pompuan sorg neh.. ahahaha :p
vii) sangat suka bila dapat meluangkan masa bersama keluarga dan sahabat tercinta.. hehe :) luv uols!

ok done! thanx kimmy.. and sorry for the delay.. hehe~ :D
0 comments for this entry:
~:WeLcOmE:~
Bayangkan makhluk kupu-kupu yang lemah mampu merungkai balutan kepompongnya
dan menjelma sebagai ciptaan yang sempurna dan indah, walaupun anugerah Maha
Pencipta sekadar tubuh kecil dan kudrat terbatas semata-mata.
Begitulah umpamanya insan yang berdikari, cekal mengemudi haluan nasib tanpa
meminta belas simpati, walau betapa besar cabaran yang diharungi.
Walaupun kadangkala timbul rasa ragu dan rendah diri, namun bagai kupu-kupu
kita mampu terbang lebih tinggi, jika kita yakin dengan kemampuan daya usaha sendiri.
Selamat datang ke blog saya... Tinggalkanlah sekurang-kurangnya ucapan salam buat saya. Terima Kasih...
~:can reach me via dis email
wittyghost84@yahoo.com n also for my YM:~

~:MuTiArA HaTi:~
~~~~~~~~~~~~~~~~~~~~
~~~~~~~~~~~~~~~~~~~~
Copy & paste code below to your webpage. Click Ctrl + A & Ctrl + C ( Copy )




alt="wiwie's blog" />

~:ChAtBoX:~
Nak kawin x? cuba klik sini
MasKahwin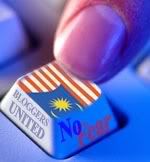 Archives

~:My BoOk's Shelf :~

~:DeAriE:~
Pre-Birthday Lunch at BLVD

7 months ago

Tips Kesihatan : Resdung oh Resdung

2 years ago

17 bulan...

6 years ago

~:MeMbErS:~